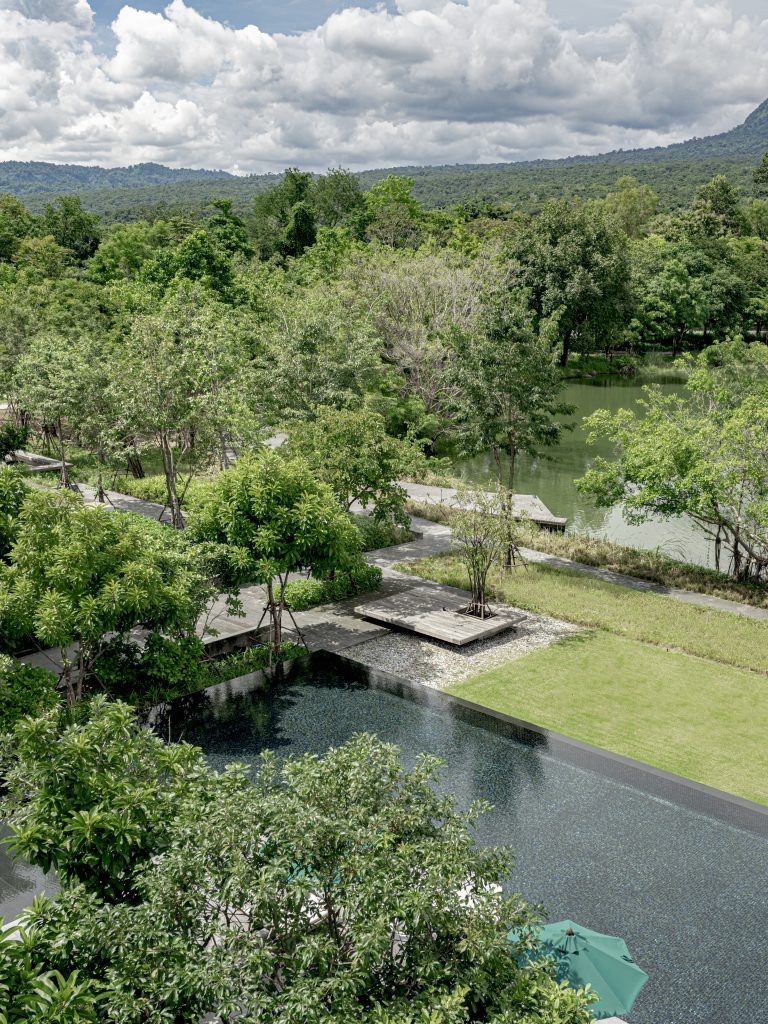 Project Information
Name of Project: PRY 1
Location: Prajinburi, Thailand
Category: Hospitality
Design Period: –
Completion Year: 2019
Site Area: –
Client & Developer: FOREST'N MOUNTAIN RESORT KAO YAI COMPANY LIMITED 
Architect: Archismith Company Limited
Interior Design: G4 Architects
M&E: –
Project Manager: –
C&S Engineering: SST Professional           
Photographer: Napat Pattrayanond

PRY1 or Khao Yai Grandview Resort is located in Prachinburi Province at the entrance of Khao Yai National Park, in the heart of nature, surrounded by large mountains and fertile with many large trees. In an effort to preserve the existing trees in the project area, the approach in our design and construction were thus built around the these trees by keeping the original trees unharmed and trying to preserve them, PRY1, therefore, is the renovation of project with the aim of preserving the original plants in the area by selecting the native trees of Thailand.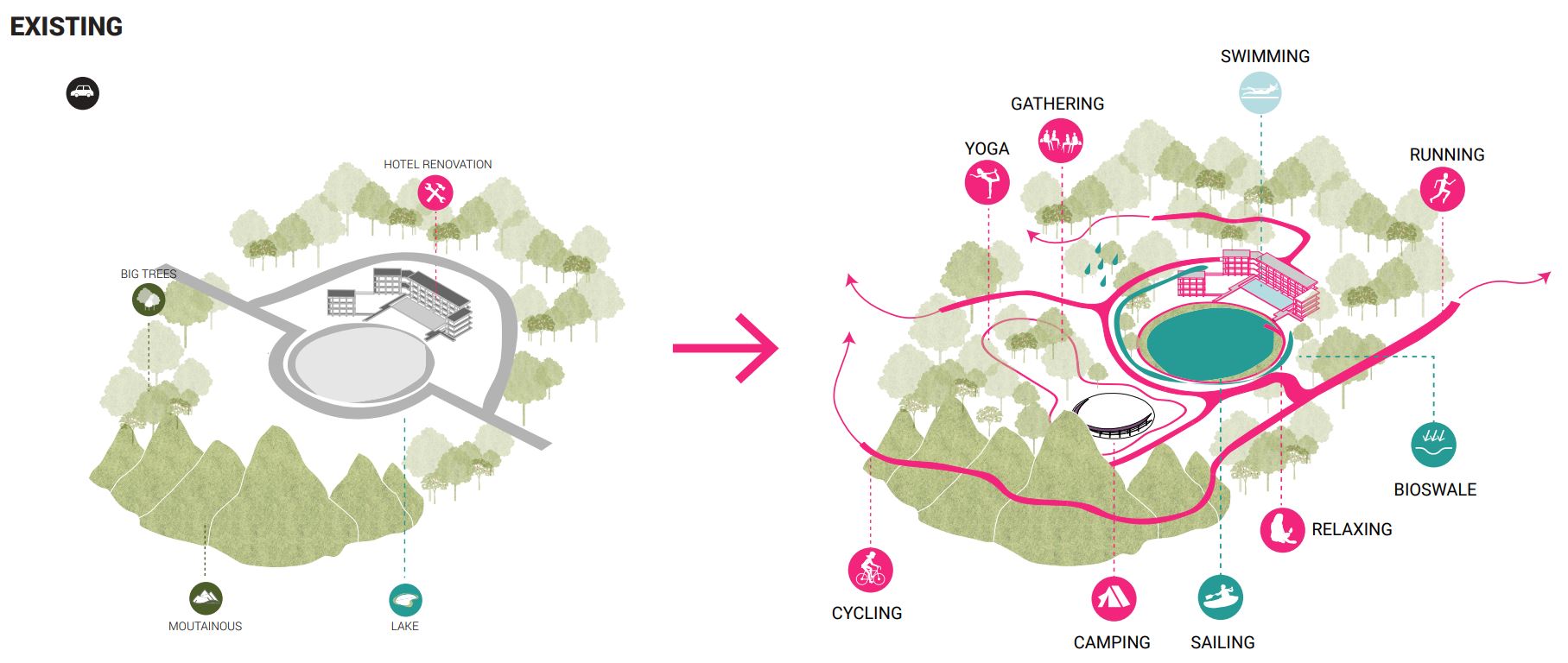 In addition to experiencing nature, in terms of being an area that supports recreational activities, there are also cycling and walking activities available. Due to the large mountain range, there are often groups of cyclists in the area. The project therefore created a track for cycling. To meet the needs of cyclists, there is a ramp that allows cyclists to climb up the building with their bicycles. Walkways and cycling paths were also built around the lake allowing people to enjoy the beautiful nature scenery.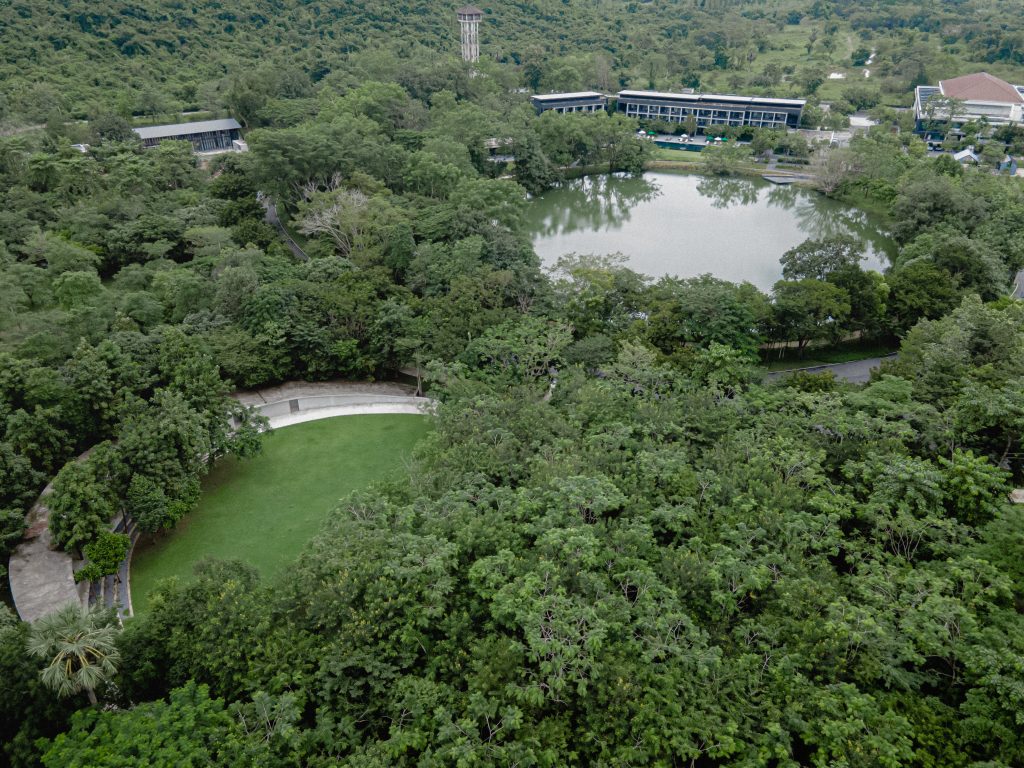 The curved shape's design of the project corresponds to the existing shape of the lake; the shape was extracted to design the gathering area, a camping site, and an amphitheater. Featured camping court as seen from above is filled up with greenery, strongly related to the peaceful water sanctuary next to the hotel building. 
Moreover, the project's design strategy was designed to answer triathlons; there is also a 50 meter long swimming pool. Resort areas, programs and facilities are connected to greenery through usage and circulation patterns. PRY1 is a place that gives people a sense of calm and relaxation while supporting a wide variety of sports and outdoor activities.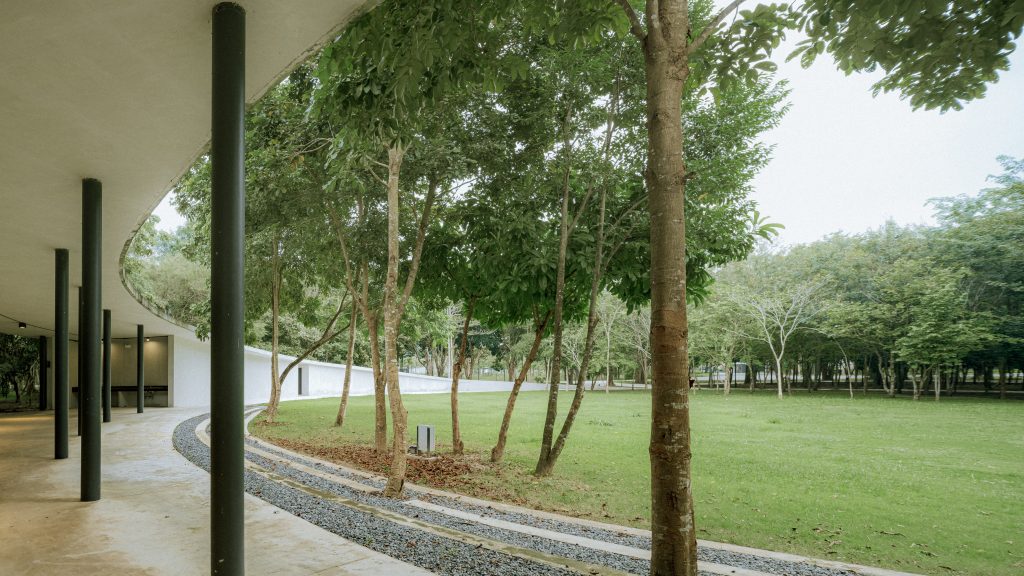 The project's arc-shaped design conforms to the existing shape of the lake. Therefore, shapes were used to design gathering spaces, tent camping, and amphitheatre. Seeing the campground from above, it stood out presenting the space that is filled with greenery. It is a project that gives a feeling of tranquility, relaxation and also caters to a variety of outdoor activities, meeting the needs of people who want to relax as well as to be active.