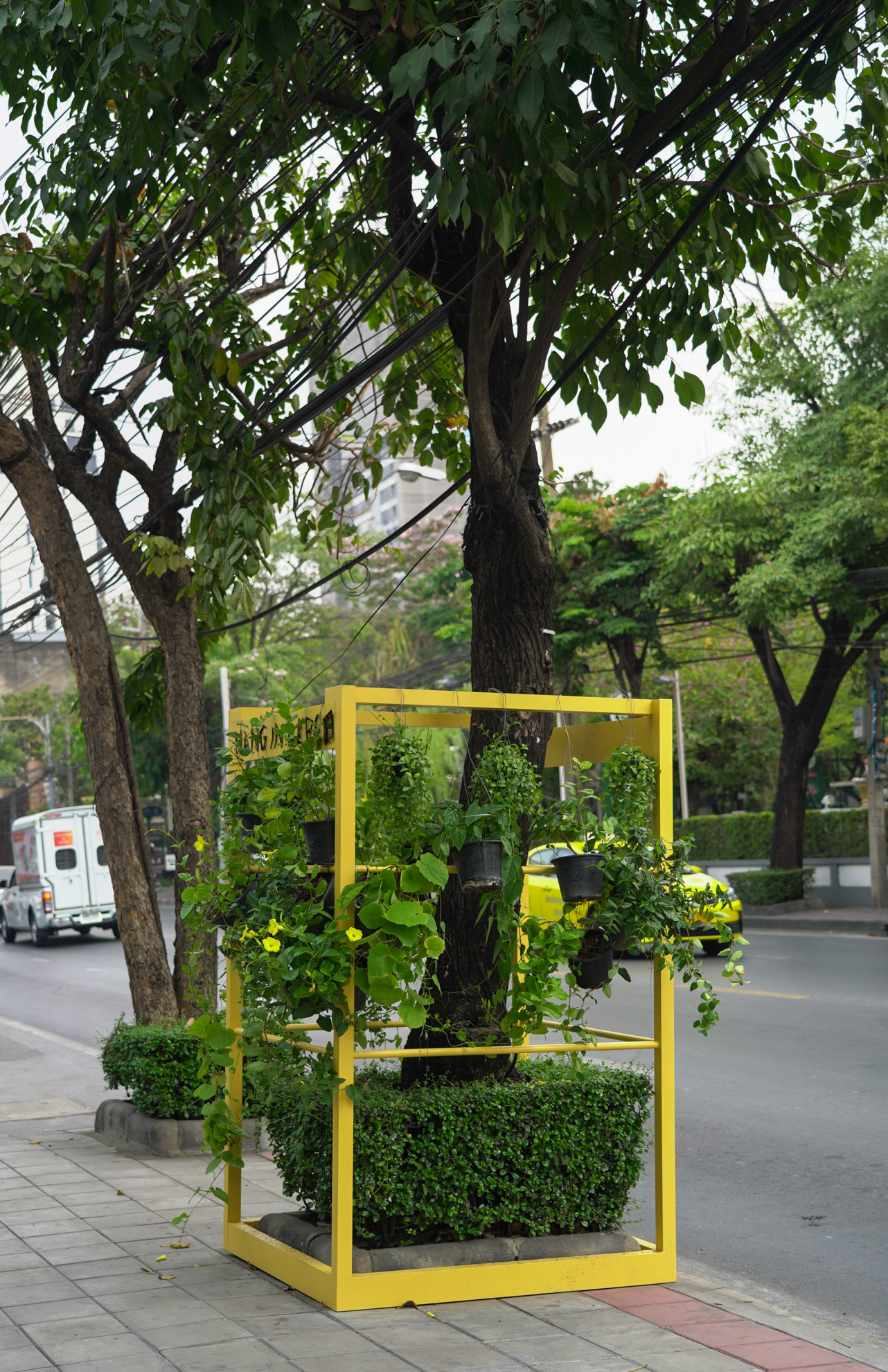 Project Information
Name of Project: Mai-Ek
Client: Thai Creative and Design Center (TCDC)
Category: Installations
Location: Ekkamai Road, Bangkok, Thailand
Completion Year: 2020
Photographer: Napon Jaturapuchapornpong
MaiEk is a series of street furniture temporarily displayed along Ekkamai street, aiming to revitalize the walkable lifestyle of the district as a part of Bangkok Design Week 2020 in Thonglor-Ekkamai or "ThongEk Creative Neighborhood." The name, "MaiEk" stands for "Tonmai" meaning tree in Thai word, and "Ekkamai,"coming from the concept of creating a design that enhances the lush greenery.
Ekkamai can be described as a 24-hours lifestyle district – full of hangout spaces, offices, cafes and residences while accommodating local values including historical buildings, old modern houses and local community. However, a lot of people might not know that Ekkamai street also consists of plentiful trees along the two sides of the footpath, depicting a epic scenery, as many of them already existed a long time ago.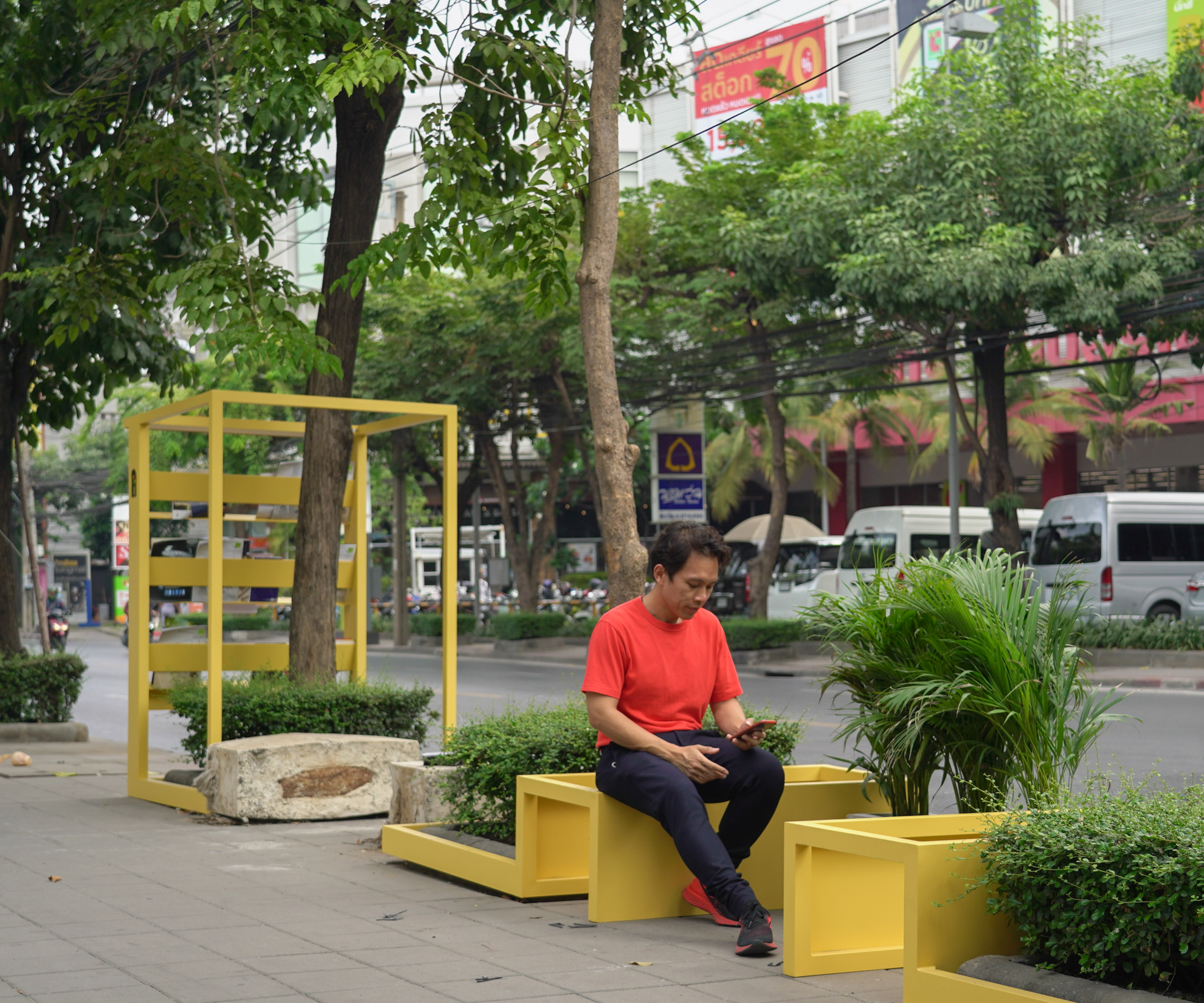 With the theme of "Resilience" for this year Bangkok Design Week, we interpreted it by questioning how we can live together with nature while adapting to the city's growth. As a result, Shma came up with 8 typologies of well-made outdoor installation attached to various sidewalk trees in collaboration with kenkoon, Thai exclusive furniture brand in construction and factory's recycled materials support.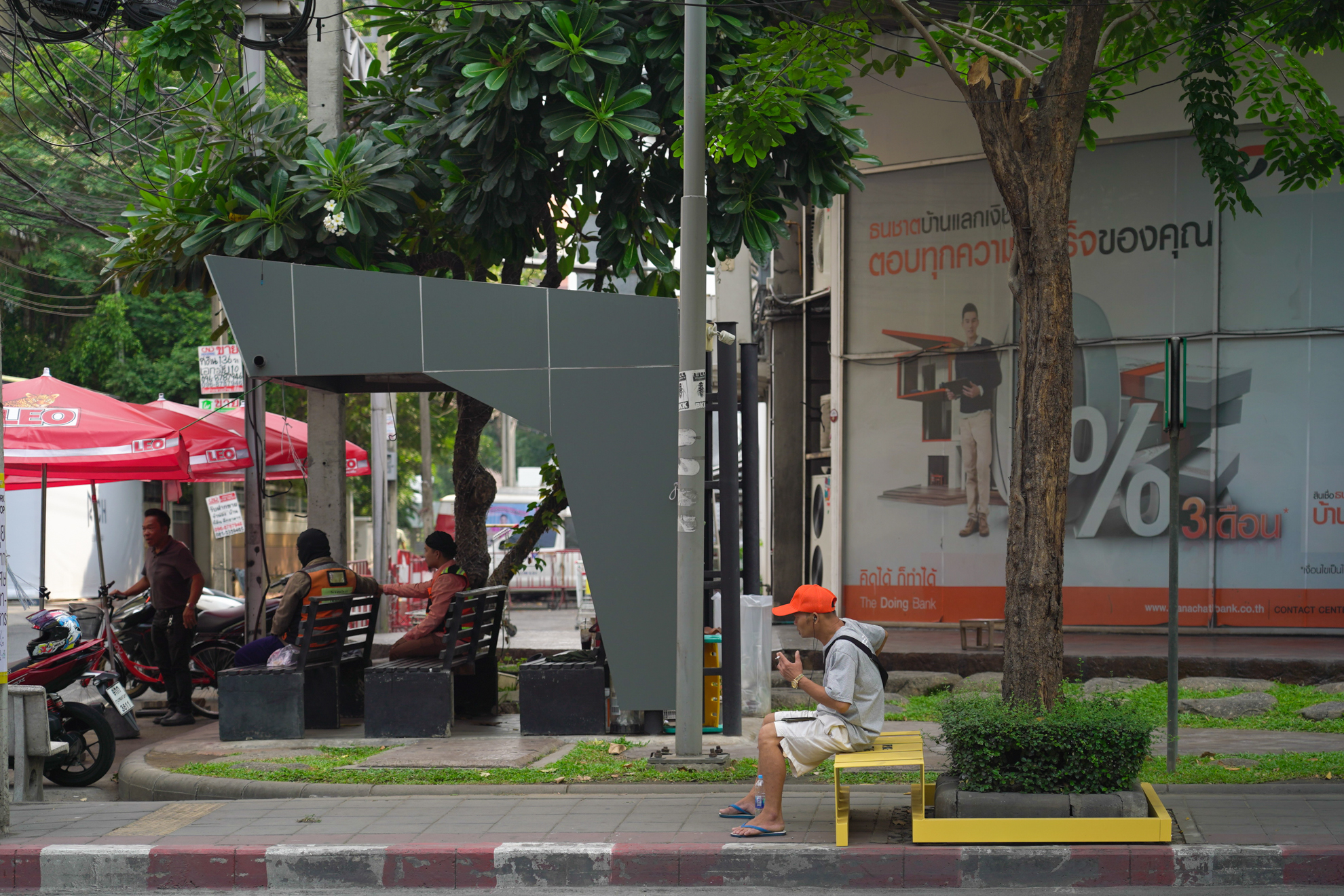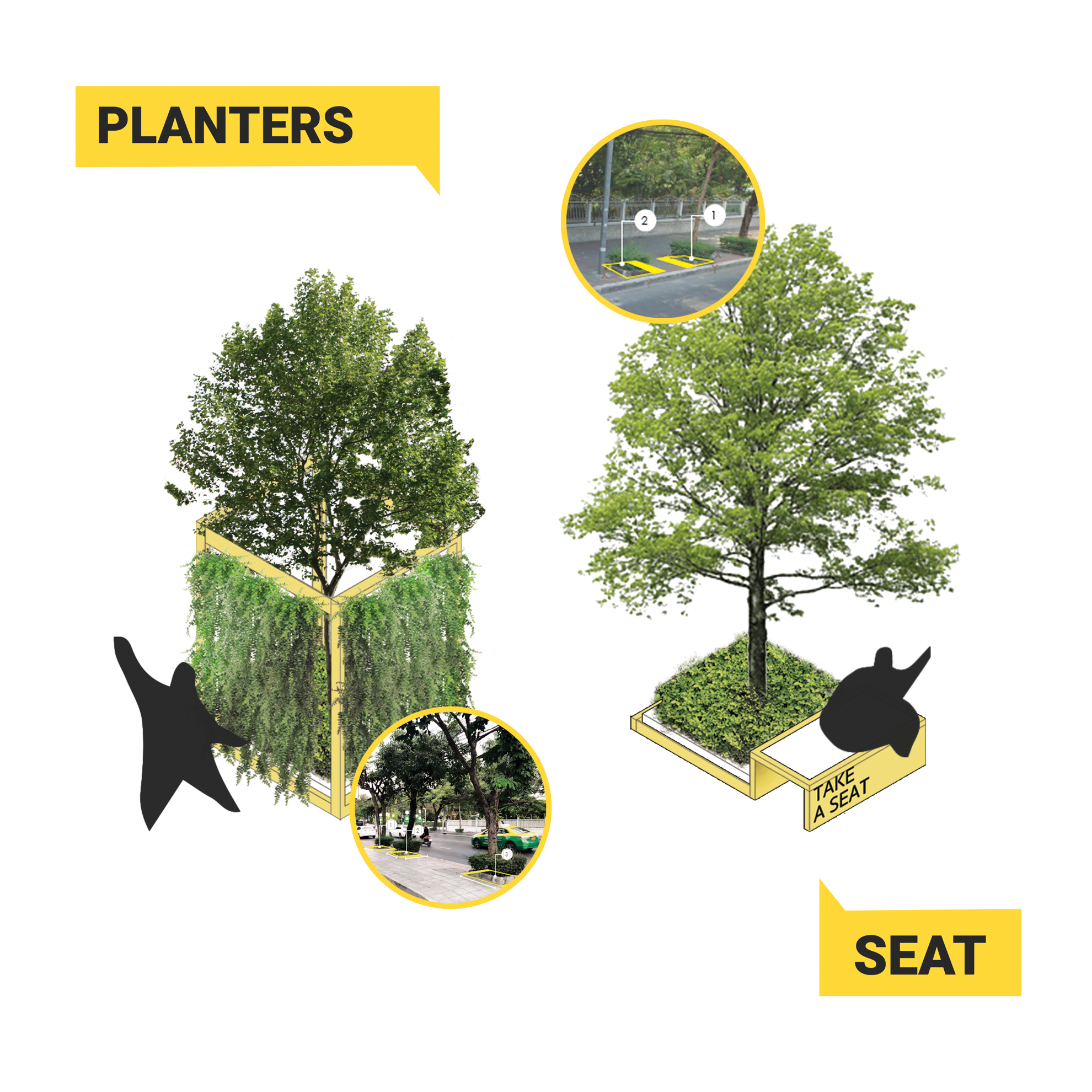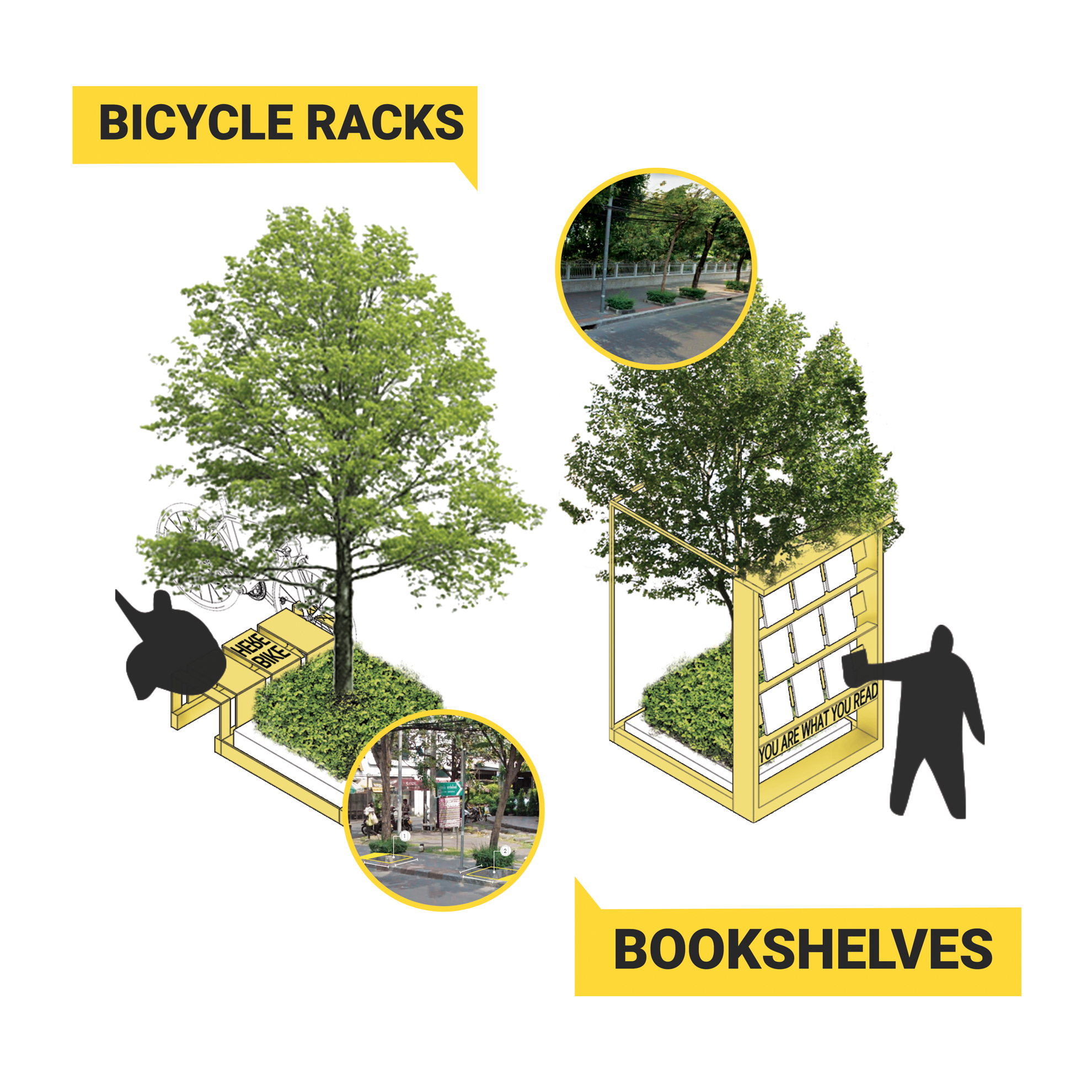 05 Backrest
Backrest furniture is installed at the bus stop in front of (un)fashion cafe, in order to make an efficient waiting area – not blocking other people who walk past.
06 Exhibition Stand
As Ekkamai has many intriguing buildings such as shop houses and modern houses, a set of neighborhood's architectural photographs is also exhibited, open to be appreciated by the public.
07 Trash Station
Trash Station is located in various spots along Ekkamai, including the place nearby such restaurants and the most crowded spots. People can then drop their waste and drop here.
08 Garbage Dump
Neighboring the Trash Station, the site is where bin bags full of trash from nearby offices and shops are placed and collected by the BMA. However, the garbage seems to be quite scattered around the trees, and with a lack of clear trash boundary, it creates an unpleasant view along the street. A simple yellow box is then installed to make this garbage dumping looks neat and become easier for BMA officers.