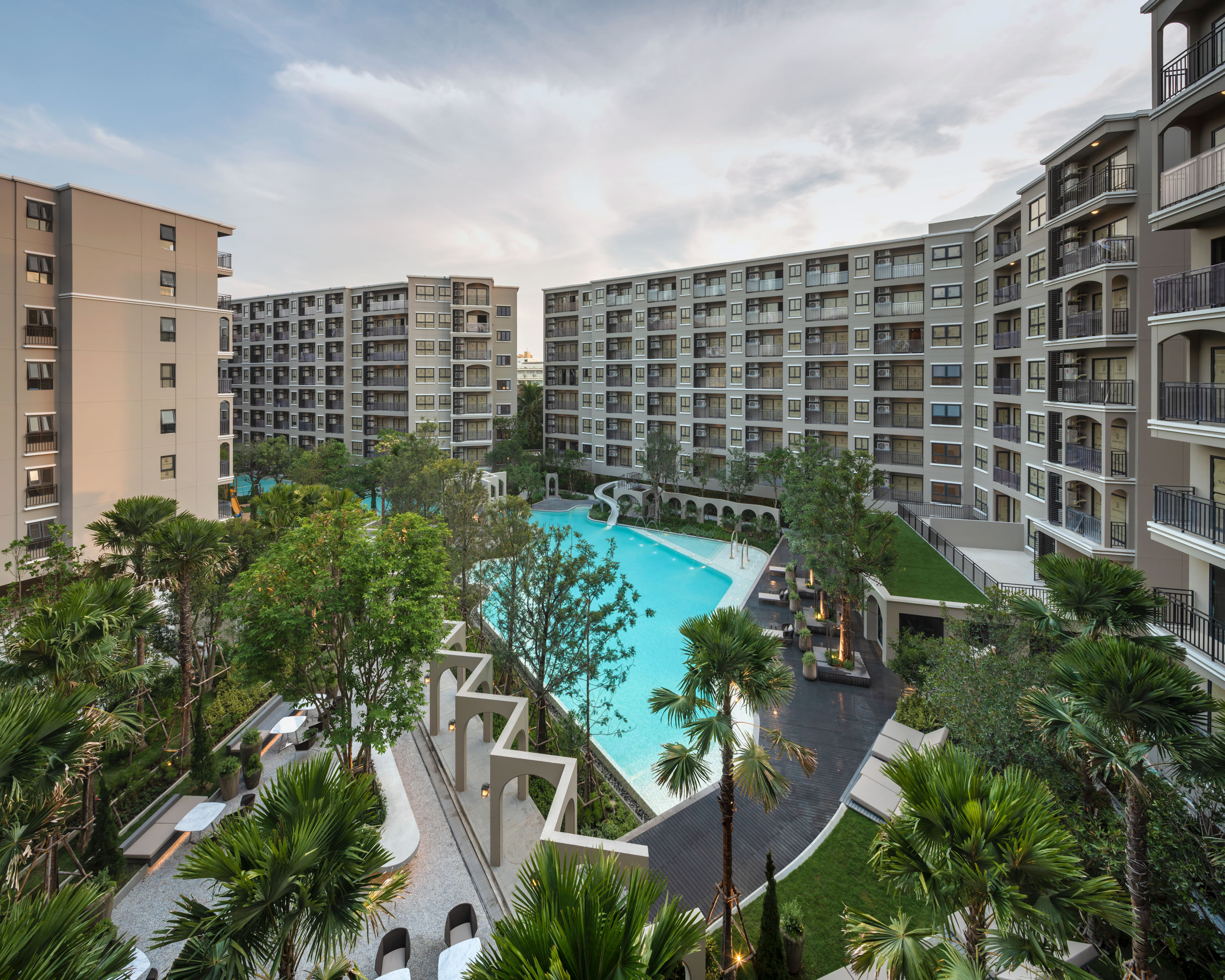 Project Information
Name of Project: La Casita Hua Hin
Location: Huahin, Prachuap Khiri Khan, Thailand
Category: Residential
Design Period: 2017
Completion Year: 2019
Site Area: 10,566.53 sq.m
Client & Developer: Sansiri Public Company Limited
Architect: Archismith Company Limited
Interior Design: BUG Studio
M&E: V.Group Engineer Company Limited
Project Manager: Project Direction Co.Ltd.
C&S Engineering: Infra Group Co.Ltd.
Photographer: Napon Jaturapuchapornpong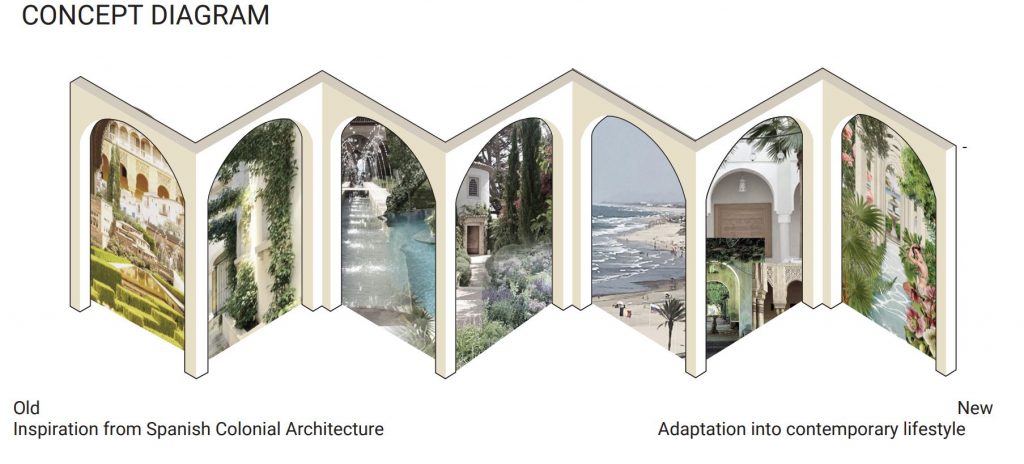 Derived from Spanish, meaning 'A house full of love and warmth,' La Casita is designed through the concept of 'Spanish Colonial,' creating a mild residence in the well-known vacation town, Hua Hin. Inspired by Spanish Colonial Architecture and its garden features, elements such as arch, piazza, sculptural planting and water feature are newly reinterpreted to suit Thailand's tropical climate and seaside lifestyle. Correspondingly, for the soft-scape, planting with certain qualities, including sculptural hedges and species, tolerated to salty, drought and wind are chosen to thrive well nearby the sea, as witnessing from the 5 main areas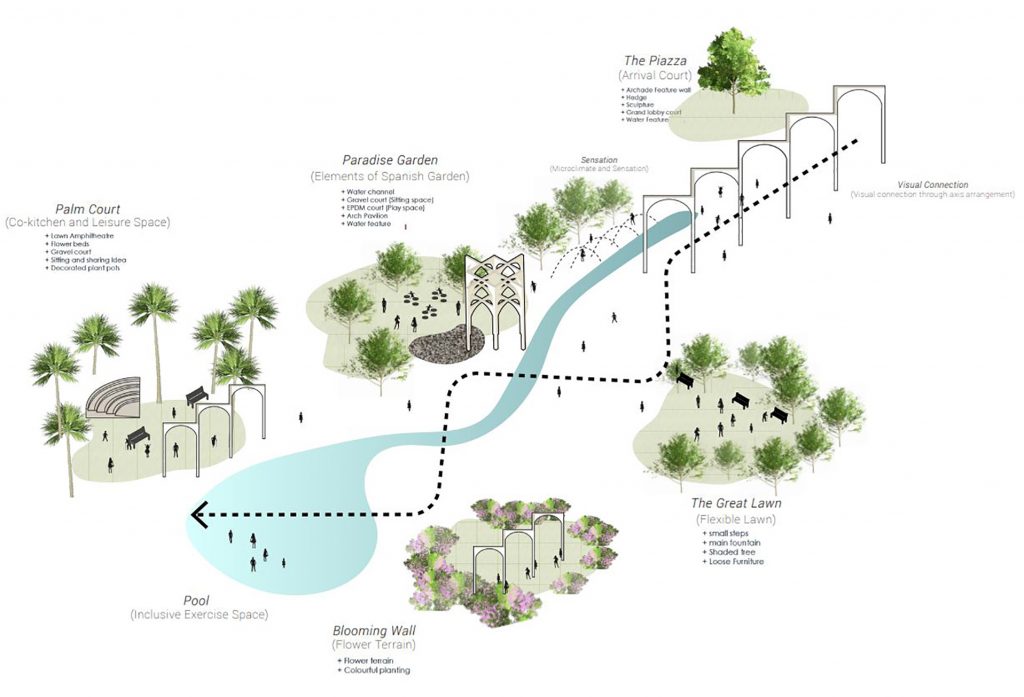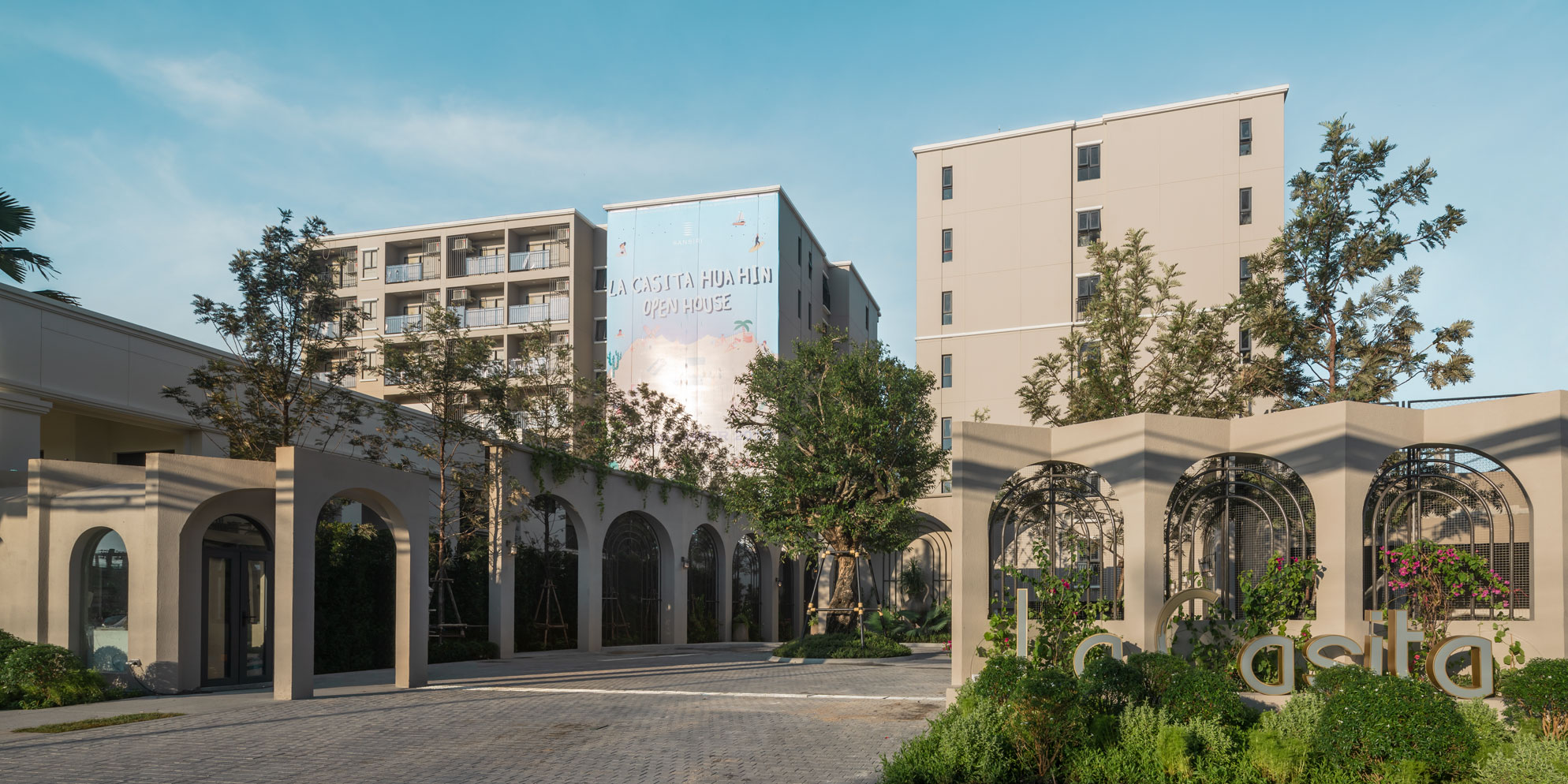 The Piazza
La Casita welcomed all residents and visitors with an entrance court, designed as a Spanish plaza. In order to get inside, they will need to walk through a bright alley, comprising warm-tone square tiles paving and rows of arches that forms feature walls with steel mesh surfaces and planted lush ivies. At the end of the walkway, they can either enter the lobby on the left or get through a special semi-outdoor space, designed with crossed arches walls and small fountain in the middle, giving a small glimpse of coziness before entering the main residential area.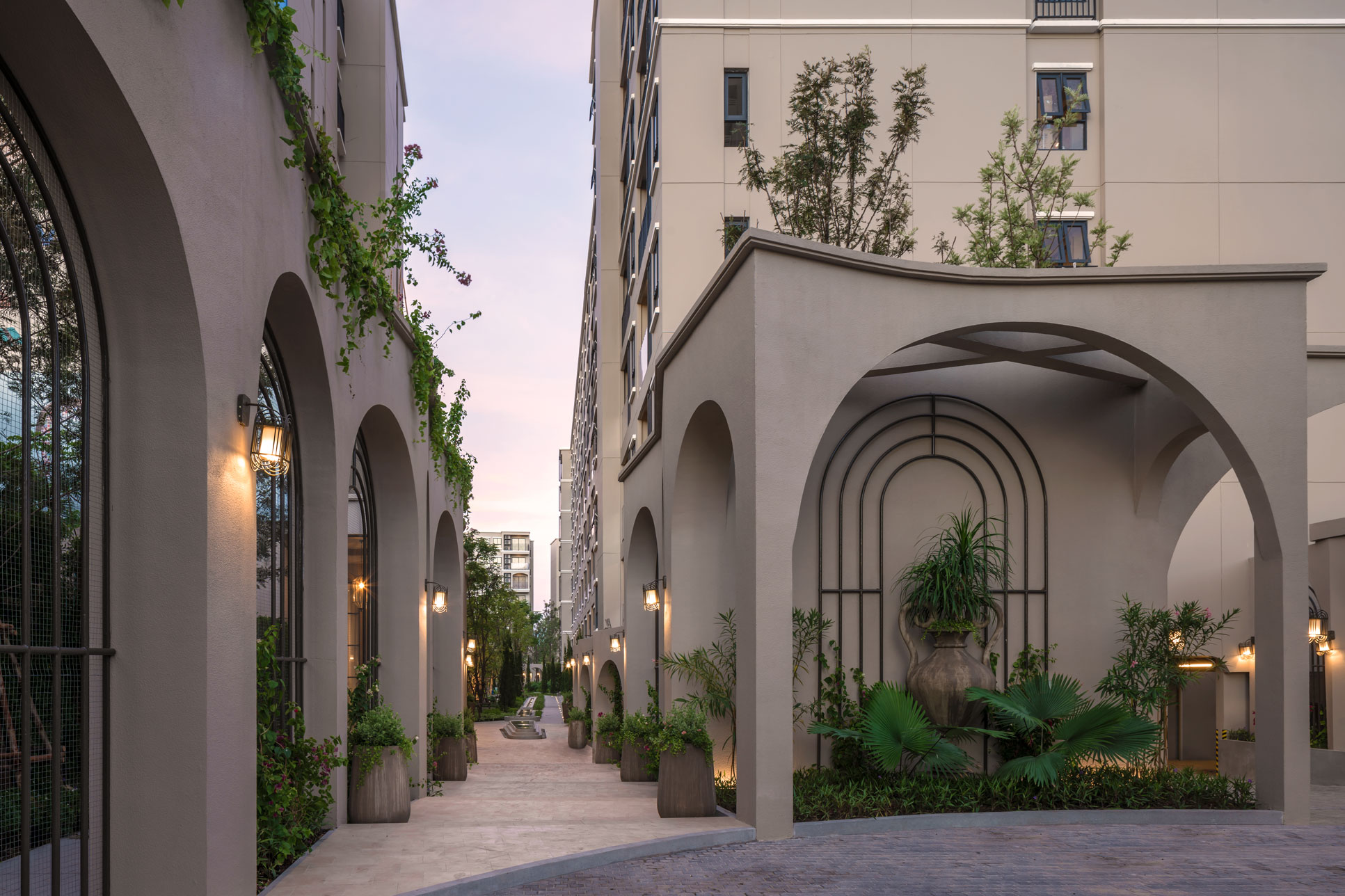 The Paradise Garden
In the main landscape area, a large open green space is the first space to encounter has greatly captured users' attention. Surrounded with stepped seats and big trees, 'The Great Lawn' is a good place for celebration and active play. Next to the lawn are a small court for group meeting and outdoor play space. Here, pine trees and hedge planting varied in textures and colors are arranged around the space to enhance Spanish Colonial atmosphere. Likewise, the walkway on the side of the Paradise Garden is covered with longitudinal water channels, linking residents' perception towards the end, where fountain and arch pavilion are located. Residents can come here and enjoy a peaceful time, relaxing under the shades on sunken seats.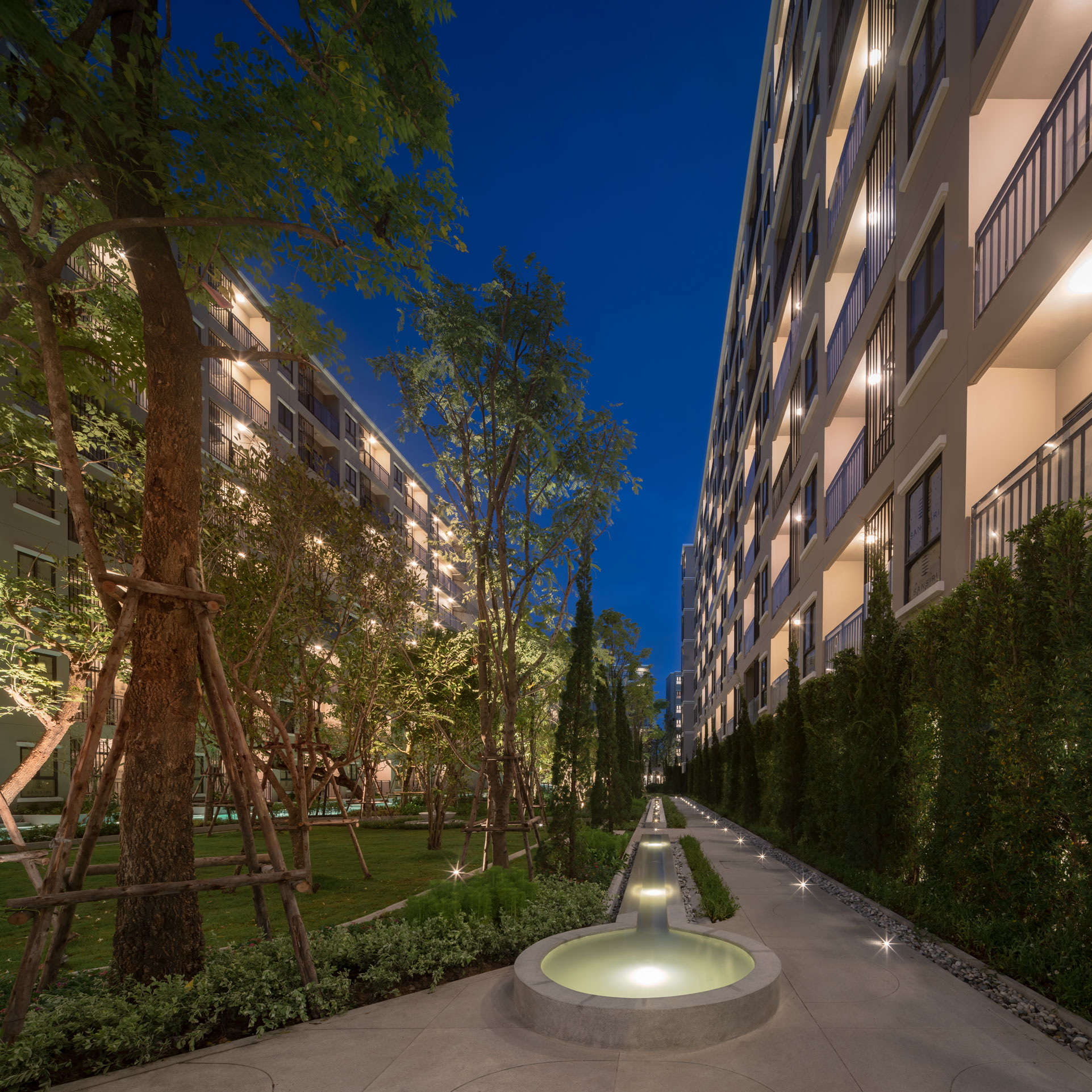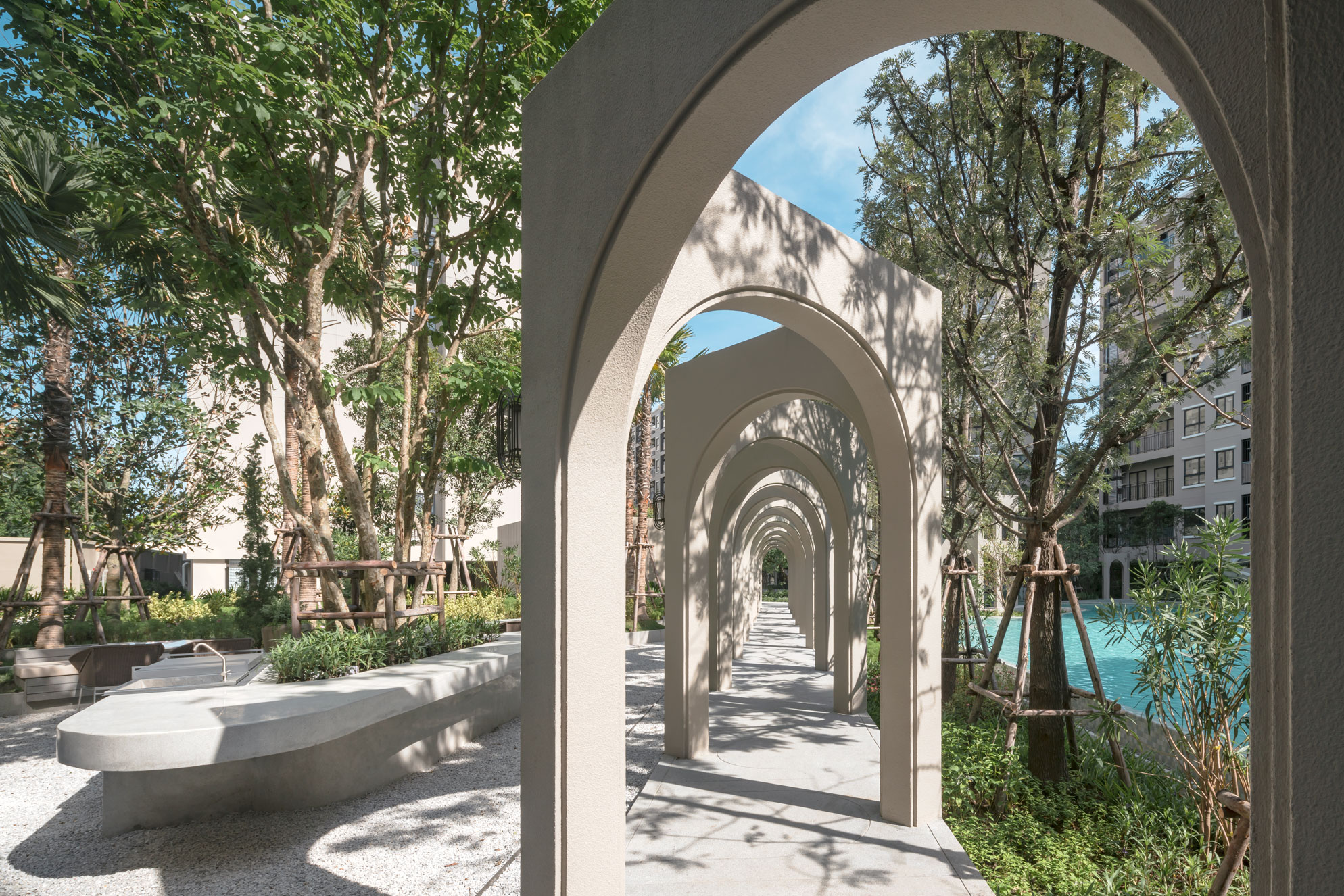 The Blooming wall
Adjacent to the featured pavilion, in order to hide the project's pump room, various colorful flowers are planted on the wall, enhancing a pleasant picturesque scene.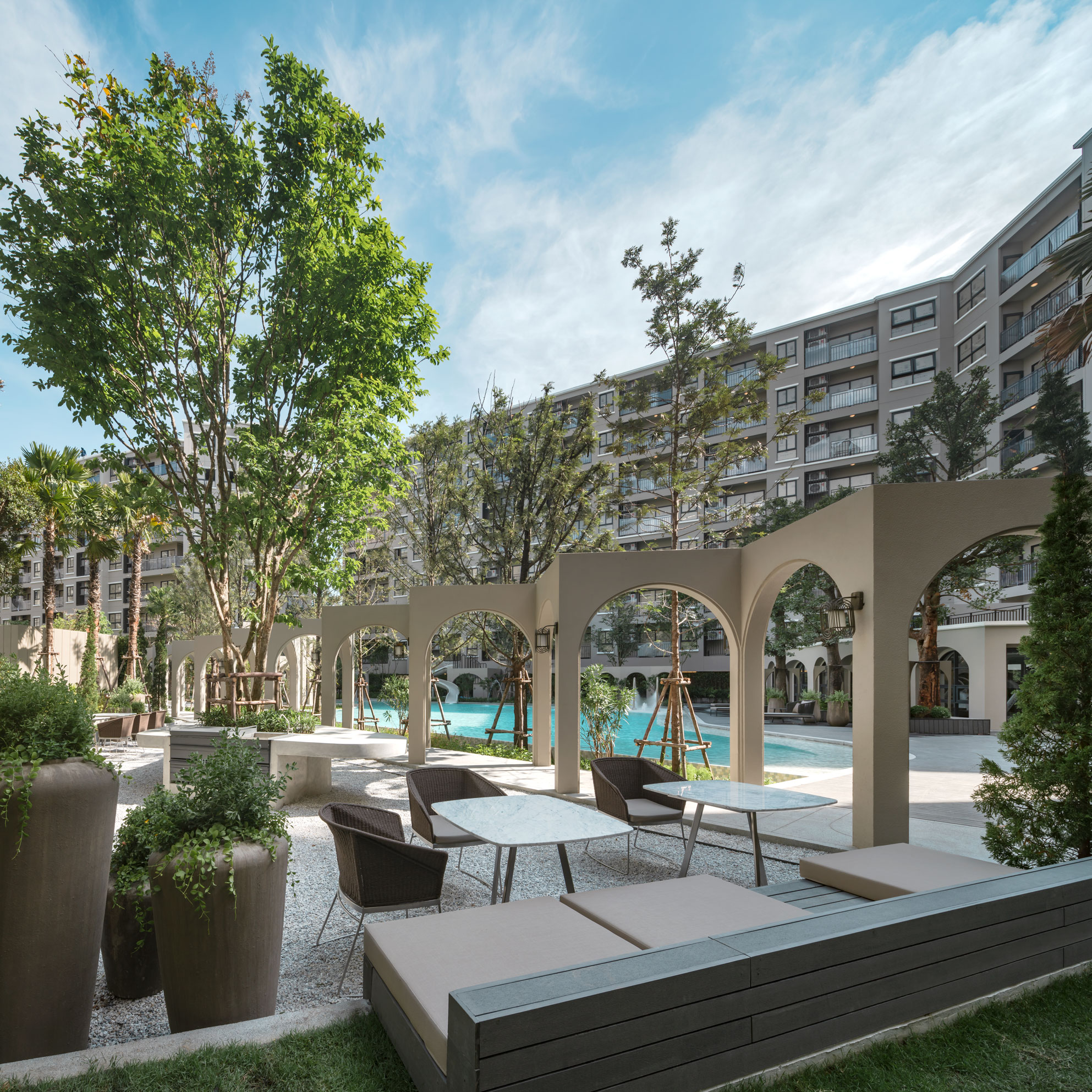 Palm Court
Arch covered walkways become the featured space which connects the main garden to the inner co-kitchen space for outdoor dining, made up of gravel court and palm trees. Here, festive dining can be held on the provided minimal designed chairs, tables and counter bar.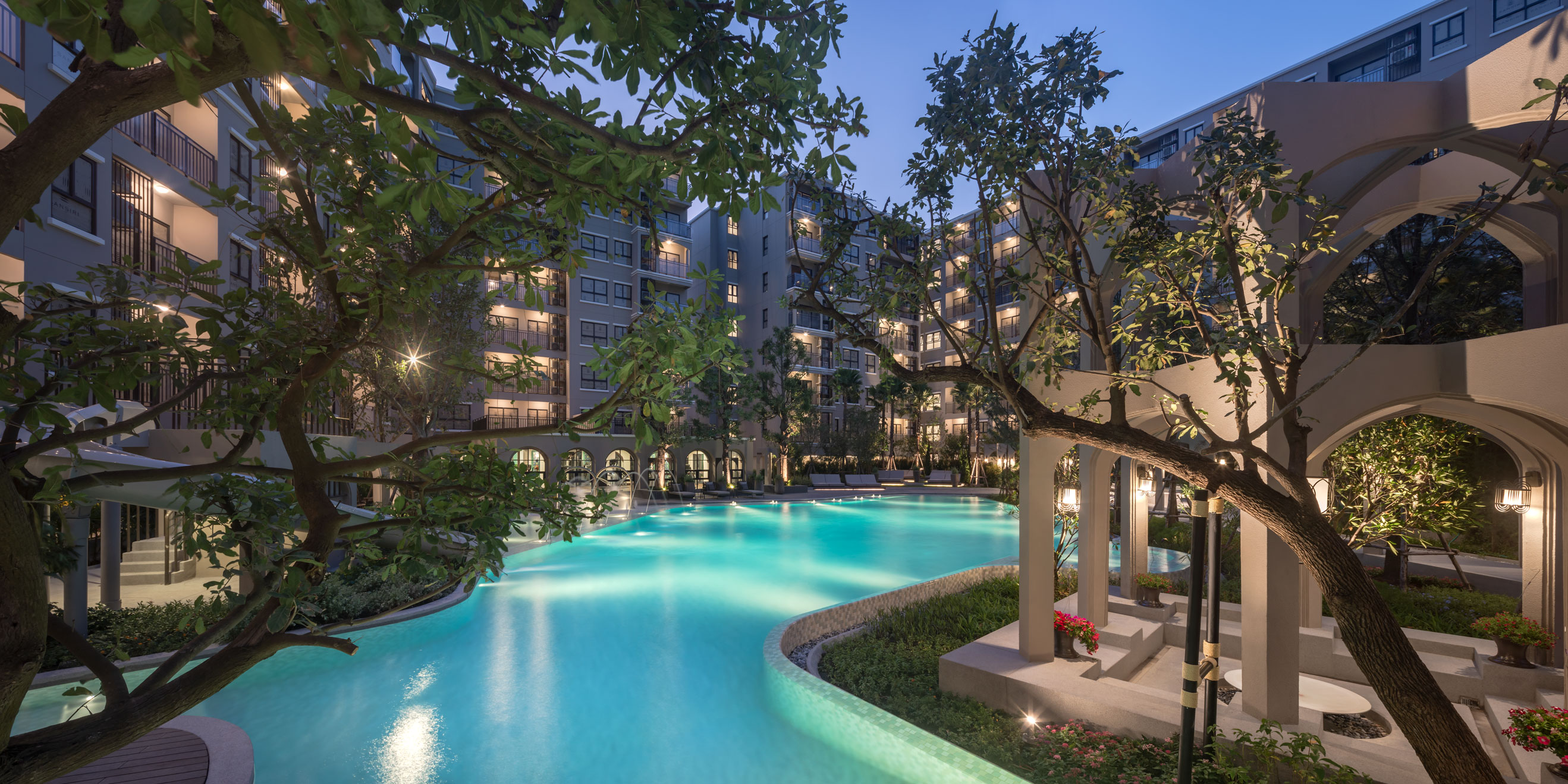 Pool Deck
All areas are connected together through 100-meters swimming pool, consisting of private pool and social pool. While the first zone can be directly access from the terrace of each frontal housing unit, the social pool, located in the center surrounded by 3 sides of residential buildings is accessible from curving pool deck. In overall, residents can come here and take a sunbathing on provided daybeds, do some physical exercise in water and have fun with their kids in the children pool on the side.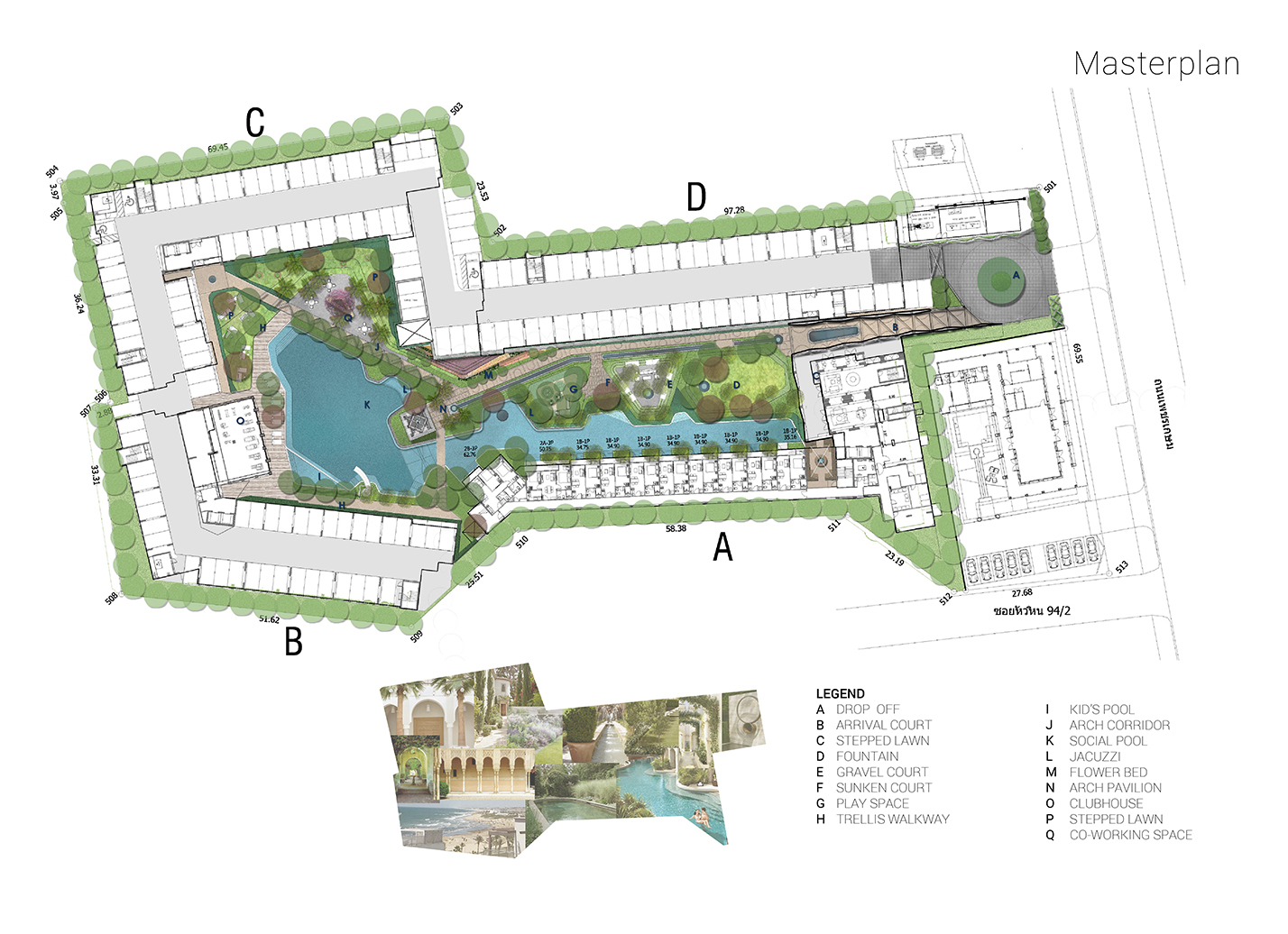 La Casita Hua Hin surely offers comfort, while celebrating joy, allowing all residents to experience a home filled with warmth and happiness.