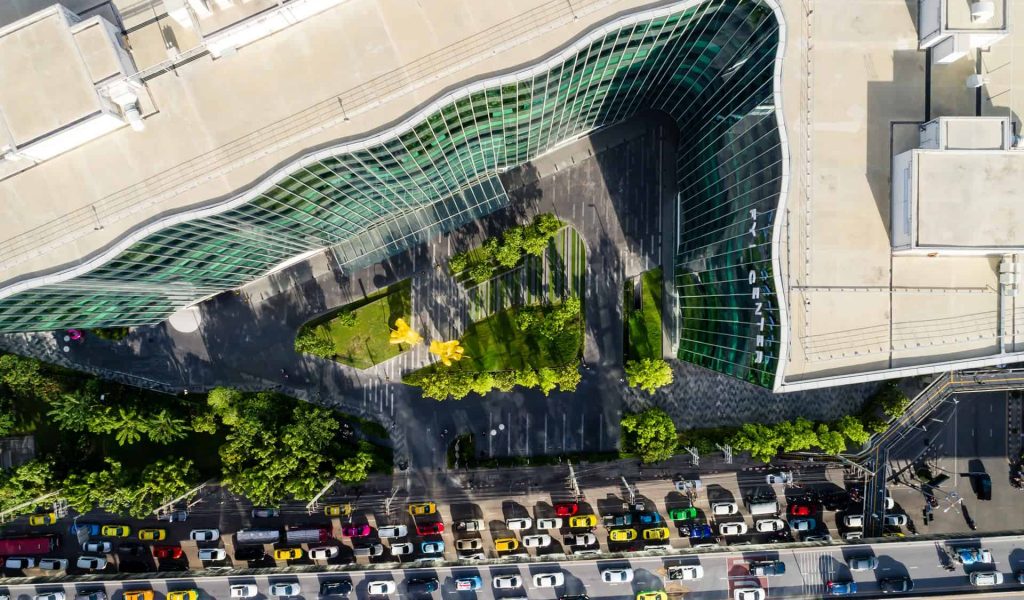 Project Information
Name of Project: FYI Center & Modena
Client:
Category: Commercial & Mix-used
Location:   Bangkok, Thailand
Design Period:
Completion
Site Area: 3586.80 sq.m.
Collaborators: Creative Crews Ltd., Somdoon Architects Ltd.
Photographer: Wison Tungthunya, Srirath Somsawat
Awards: TALA Awards 2018; Honour Award in Commercial Catagory
Mitigating site condition & surroundings
The site is triangular-shaped 8-rai land situated at the Northeast corner of Klongtoey junction. The project was to be built on the existing sub-structure along the East and South side of the plot so the 3 buildings inevitably have to face West sun and the impact from the vehicular flyover on Ratchadaphisek Road. On the South it is facing Rama IV road with Klongtoey Market on the opposite side. The streets are known for congestion and high air and noise pollutions but however they are lively with street activities such as hawkers, night vendors and motorcycle taxi stands.  The solutions to this are simple; planting is used to minimize the pollutions (see planting design section) and the surrounding urban activities are simply embraced with permeable boundary.

The overall property was raised 900mm above the street, and the level difference was utilised to demarcate the boundary without the need to build an additional fence. This low-level separation maintains a physical and visual connection with the existing community and small business establishments surrounding the project. Series of entrances allow access from outside through retail space on the ground floor and to the central open space.
Socializing around the Water Hole
Enclosed by buildings on two sides, the remaining open space in the centre became both the green retreat and main gathering point. It was accessible from all buildings and was intentionally sunken to form 'Water Hole' where various activities; events,  performance or simply meet up, or passive relaxation can take place inside and around landscape area.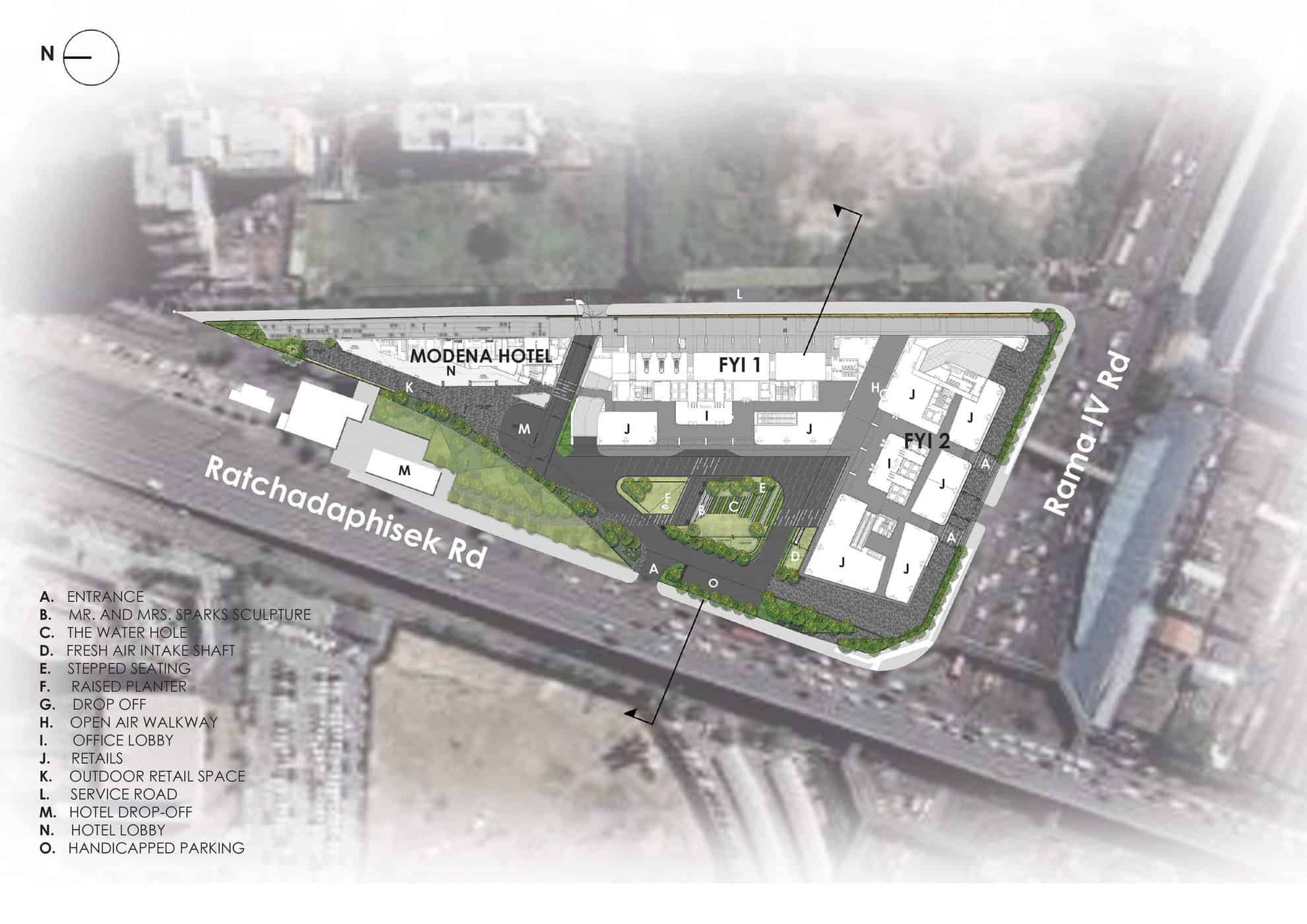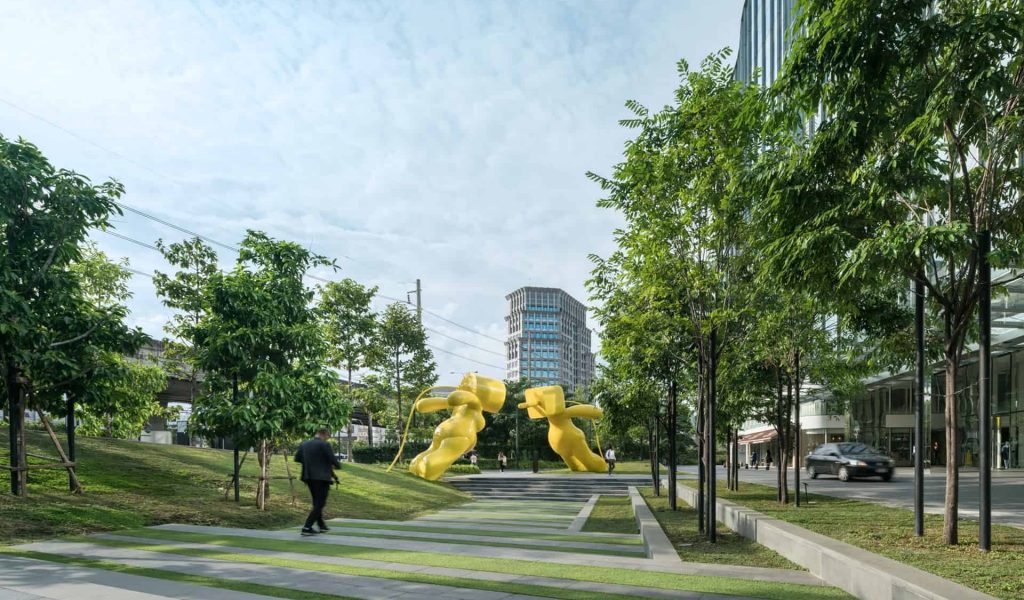 Landscape as a result of multi-disciplinary solutions, Green Infrastructure as a landscape feature
FYI's landscape design is not only a landscape architect's work but also the collective effort of a team of various consultants whose inputs, requirements and limitations resulted in the final design of the landscape. The sunken volume of the Water Hole could be an emergency water detention, the sloping lawns that blocked the street view and increase visibility of green from buildings was, in fact, the landscape feature that hid the fresh air intake shaft for the basement car park, series of designed slope was a solution for lack of soil depth.
The pattern of the pavement & the pedestrian crossing on the driveway was derived from Corporate Identity graphic as well as the position of the sculpture-Mr. & Mrs Sparks-that planked the main walkway passing through the landscape.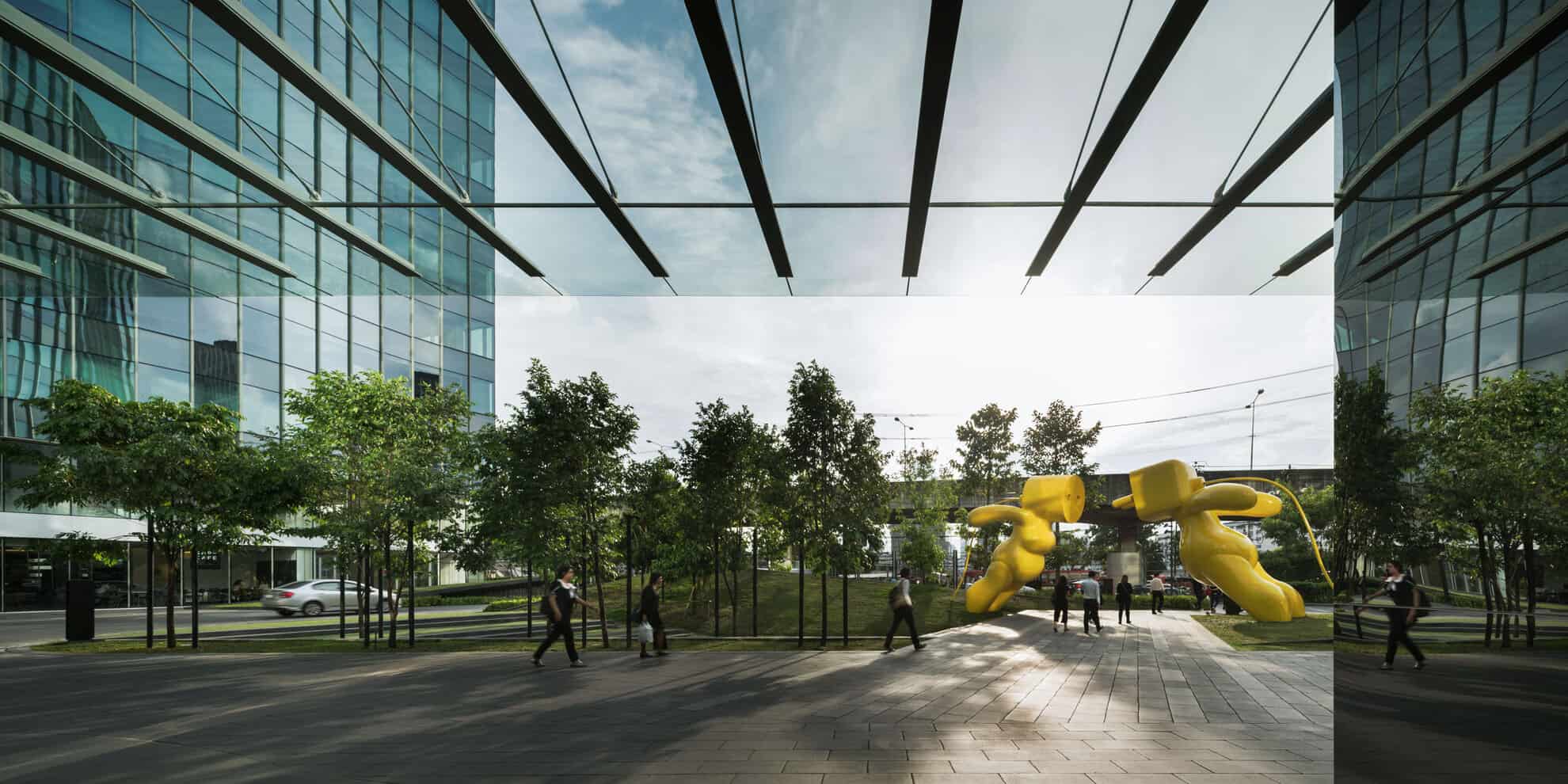 Business + Creativity flow, circulation planning
Business + Creativity is the project development's objective. The spaces and circulation were hence planned for efficiency as well as to encourage encounter and socialising. By architectural layout where lobbies and retails on the ground floor were connected by a naturally-ventilated walkway, pedestrian access from public transports from around the project, while direct to destinations, were crisscrossing through series of functional spaces that seamlessly flow in and out between landscape and architecture.