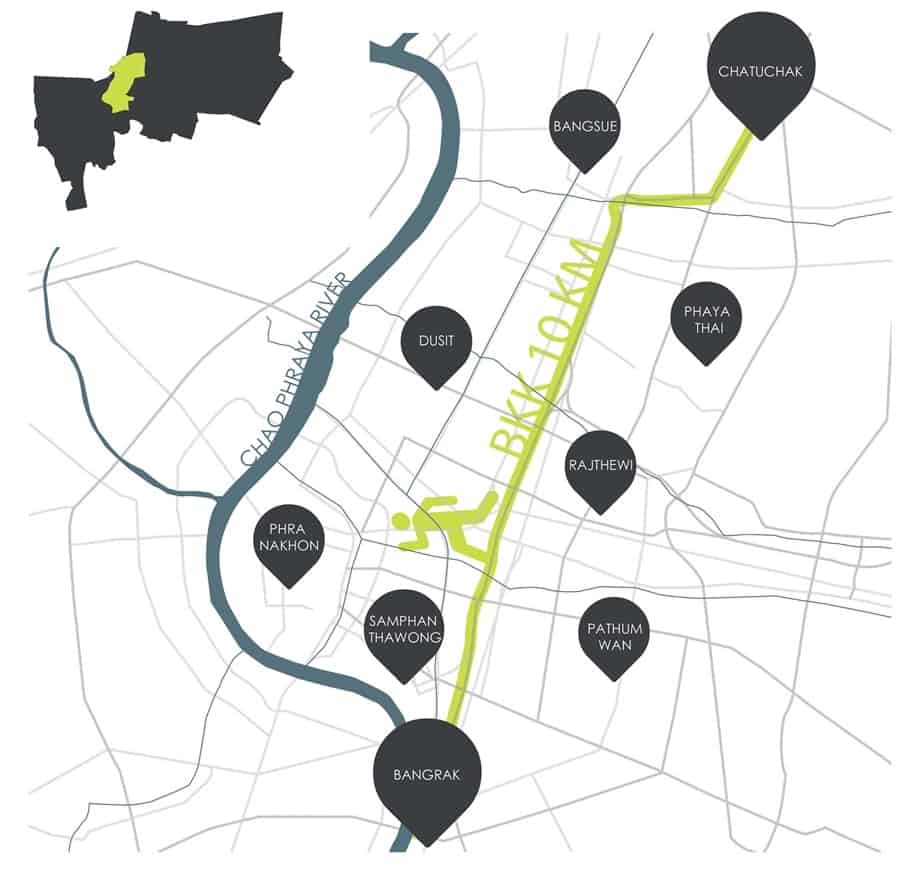 Project Information
Name of Project: 10 Kilometers
Client: –                    
Category: Masterplanning, Public Park
Location:   Bangkok, Thailand
Design Period: 2016                                 
Completion Year: –
Site Area: 10 km.
Collaborators: –
Photographer: –
Awards: IFLA ASIA- PAC 2017; Award of Excellence in Analysis & Masterplanning Catagory                                                                              WAFX 2018; Winner Prize in Smart Cities Catagory 
The urge to go outside and enjoy outdoor activities in a metropolis seem quite common today, as well as in Bangkok. A lot of urban people start to jog more, and many Marathon events happen like never before. This movement, likewise, urges us to foresee an urban-scape which could accommodate these healthy activities, that might as well improve overall urban livelihoods. Hence, we see potentials in a large public park located at the North of Bangkok to be a starting point of the project and continue toward the South to the inner city where the endpoint meets Chao Phraya River. This 10 Km. Length project, which forms an almost straight line through the city, has available resources to shift itself into a platform that can be knitted people with healthier lives, unique urban cultures, and most importantly, sustainable economic development.  
Along this passage, Highway and multiple abandoned vast spaces disconnect the urban fabric, splitting the city into two corridors. The 10 km Project proposes an idea of re-appropriate spaces under the highway, skywalk bridge, footpaths, and canal side to re-attached the urban through green ecology. The passage surrounded by diverting land-use; however, each section shows significant characteristics of the neighbourhood.  To enhance those unique community qualities, we summed up to 6 different zonings :
"Urban Promenade" encourage alternatives sustainable transits & link people with mass transits comfortably.
"Ecological Canal" open canal side for relaxing activities.

"Canal Park" Transform abandoned under-highway into recreational area for communities.

"Healthy Strip" Boost healthy activities on skywalk-bridge and footpaths.
" Sport Ground" turn under highway into sport arena & playground for all ages
"Creative Strip" Integrates creative function onto existing structure, creating interactive for all walks of life.
For this reason, we propose a strategy to develop urban environment by introducing a 10 KM green corridor that restore Bangkok's long lost connections. First is to relink mass-transit systems of Cars-Rail-Boat while introduce alternative route such as bike path and walkway to reduce cramped in transportations. Second, Human to nature relationship where green corridor will reach each public park to create a complete green network for the city. And Lastly, the sense of Community where recreational areas were added to create communal activities through sports, playgrounds, and creative spaces. By this interconnecting, we hope to activate the pulse of local economic growth, improve living quality and set off agenda for the community center based development.