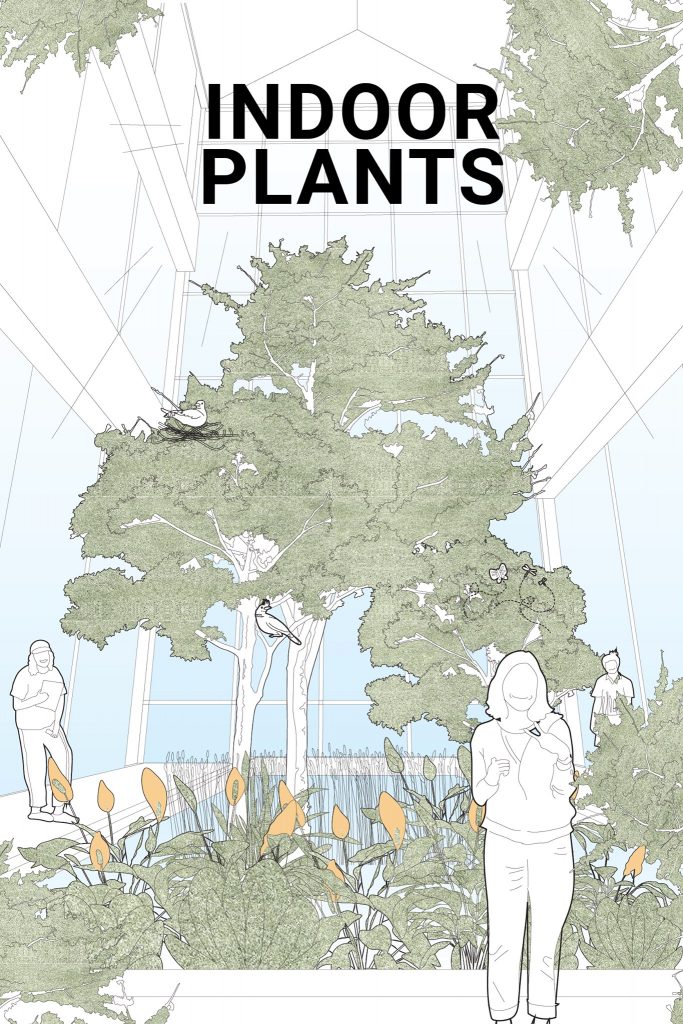 Currently, people are starting to adjust to the 'New Normal' way of life correspondingly from the epidemic situation. Although it has been spreading for a long time, adjusting to a normal life still takes some time. So in the past, we believe that many people may have started looking for new activities to do in their spare time. An activity that can be done in their own home, whether art, music, cooking, or embroidery but one thing we saw is that everyone has begun to pay attention to growing plants inside their house or having indoor Plants which is not only a simple hobby but it also adds relaxation and filter the air, creating a good atmosphere in the house.
.
Looking at it from another angle as a designer, Indoor Plants have been a part of design for a long time. In our approach to landscape design work, we have gathered educational information about different types of plants. Studies of nature that we have accumulated for everyone who is interested in trying to grow plants in their house. Including supporting the creation of green spaces for ourselves that we all can access to be a relaxing area in the house as well
.
What are Indoor Plants ?
.
Indoor plants are plants that can thrive and grow indoors even in space with little sunlight or poor lighting conditions. Some species are not only aesthetically beautiful and attractive but also help absorb pollution and purify air. Indoor Plants are becoming more popular and widespread nowadays, whether in department stores, offices, restaurants, buildings or residences to bring nature closer to ourselves and to compensate for the green spaces that are gradually decreasing in our city. Including creating a good environment for that area in the process of caring for indoor plants, there are several variables that we should consider before bringing plants into our homes.
.
Species
Lighting Condition
Planting Material: Planting Pot
Possible Diseases
Care and Maintenance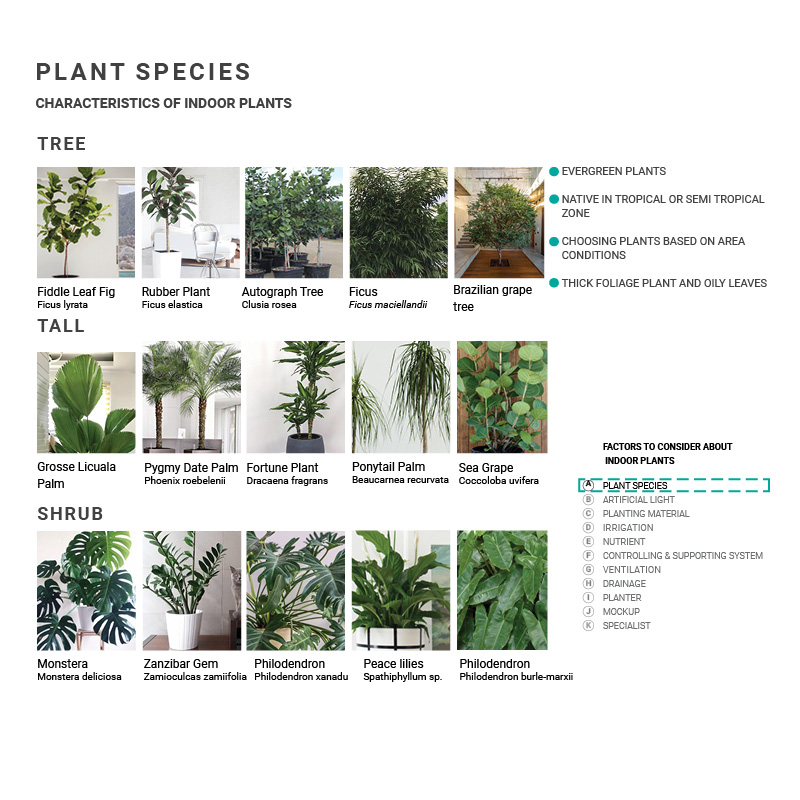 Plant Species
.
In Thailand, planting indoor plants should consider the weather and sunlight that is suitable for certain plants. The plants that can be grown indoors are evergreen plants native to tropical or subtropical regions. It has thick and glossy leaves. There are three types of plants that are commonly grown:
Tree (Perennial) such as Fiddle Leaf Fig / Rubber Plant / Brazilian grape tree
Tall Shrub such as Grosse Licuala Palm / Fortune Plant / Sea Grape
Shrub (shrub) such as Monstera / Zanzibar gem / Peace Lily
.
สายพันธุ์
ในประเทศไทย หากจะปลูกพืชในร่ม ควรคำนึงถึงสภาพอากาศและแสงแดดให้เหมาะกับพืช โดยพืชที่สามารถปลูกในร่มได้ คือ พืชไม่ผลัดใบ พืชพื้นเมืองในเขตร้อนหรือกึ่งเขตร้อน มีใบมันและหนา โดยประเภทพืชจะใช้กันอยู่สามประเภท คือ
Tree (ไม้ยืนต้น) เช่น ไทรใบสัก / ยางอินเดีย / องุ่นบราซิล
Tall Shrub เช่น ปาล์มจีน / วาสนา / องุ่นทะเล
Shrub (ไม้พุ่ม) เช่น พลูฉีก / กวักมรกต / เดหลี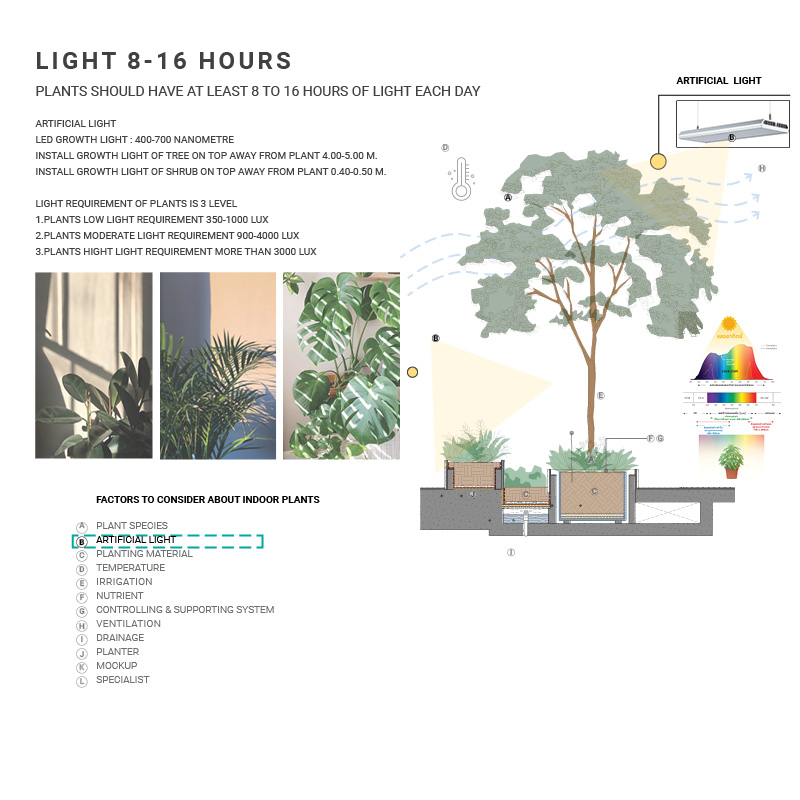 Lighting
.
Plants should receive 8-16 hours of sunlight. If the room is too dark, use synthetic LED GROW LIGHT to help plants grow. If installing LED GROW LIGHT : 400-700 nm. It must be installed 4-5 meters away from perennial plants and 0.40-0.50 meters away from shrubs.
.
3 Levels of Sunlight Exposure Necessities
1. Needs a low amount of light 350-1000 LUX
2. Needs a moderate amount of light 900-4000 LUX
3. Needs a large amount of light, 3000 LUX or more
Planting Materials
Concerning Indoor Plants, the matter of soil and fertilizer is very important. As a source of food for plants, the soil preparation for each plant is different, including foliage plants, flowering plants, and ferns.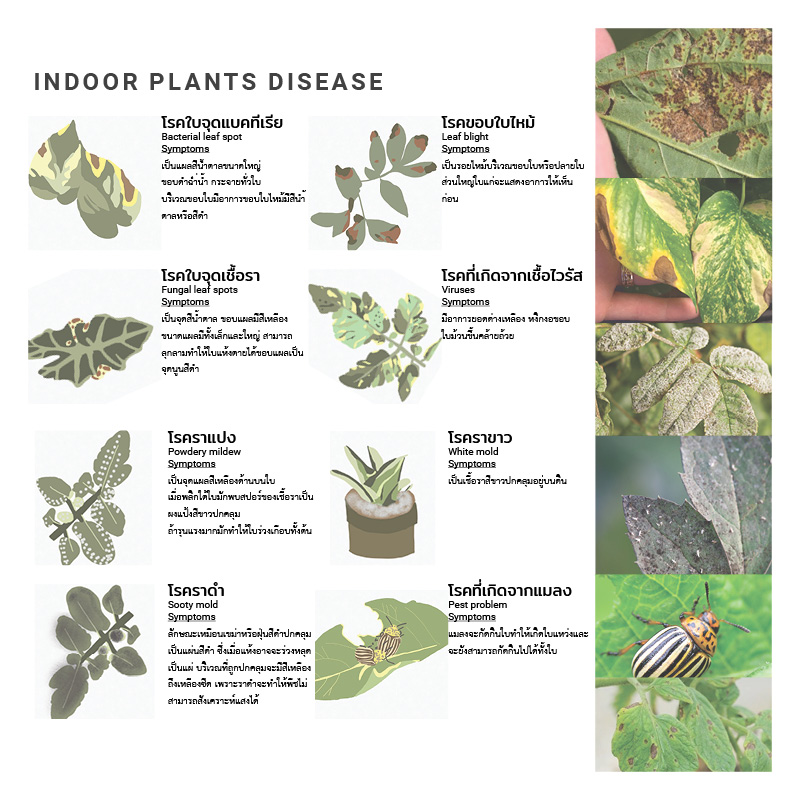 Indoor Plants Disease
Naturally, each plant already has a disease in itself but bringing plants indoors and not caring for them properly may make them more susceptible to disease or mold. Here are some examples of common diseases: Bacterial leaf spot / leaf blight / fungal leaf spot / viral disease / powdery mildew / white mold / sooty mold and pest problems. The method of treatment includes the use of fungicides, herbal use, or the use of microorganisms, but the best way is to prevent this by regularly rotating your plants in sunlight and taking proper care.
Maintenance
For growing indoor plants, If you want to extend to grow plants indoors. Plants should be placed in the soil for 3-6 months before, and every 3-6 months they need to be rotated to maintain the plant's condition. Then gradually planted in the original land. There should be 3 sets of plants together, taking turns in the shade for 3-6 months at a time (in the case of large plants).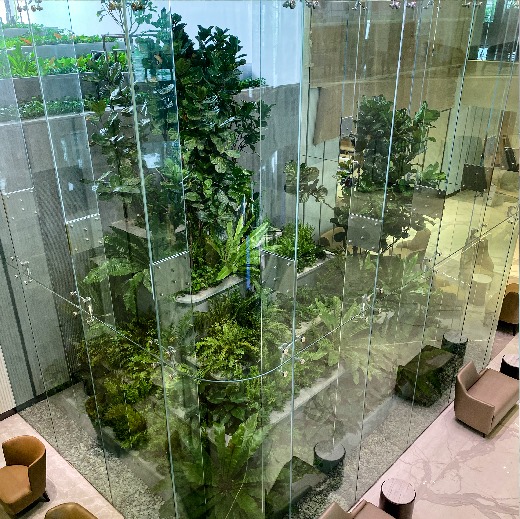 โปรเจ็คต์โรงพยาบาล Medpark ของฉมาเป็นหนึ่งในงานออกแบบที่ใช้ต้นไม้เป็นองค์ประกอบหลัก โดยในส่วนของโปรเจ็คต์นี้ เนื่องจากเป็นห้องปรับอากาศขนาดใหญ่แสงเข้าถึงน้อย จึงมีโอกาสทำให้เกิดโรคจากต้นไม้ได้ง่าย ดังนั้นจึงมีการติดตั้งบันไดเพื่อให้มีทางเข้าออกเพื่อเปลี่ยนถ่ายต้นไม้ให้ครบระยะ รวมถึงติดตั้ง LED Grow light เพื่อให้พืชสามารถเจริญเติบโตได้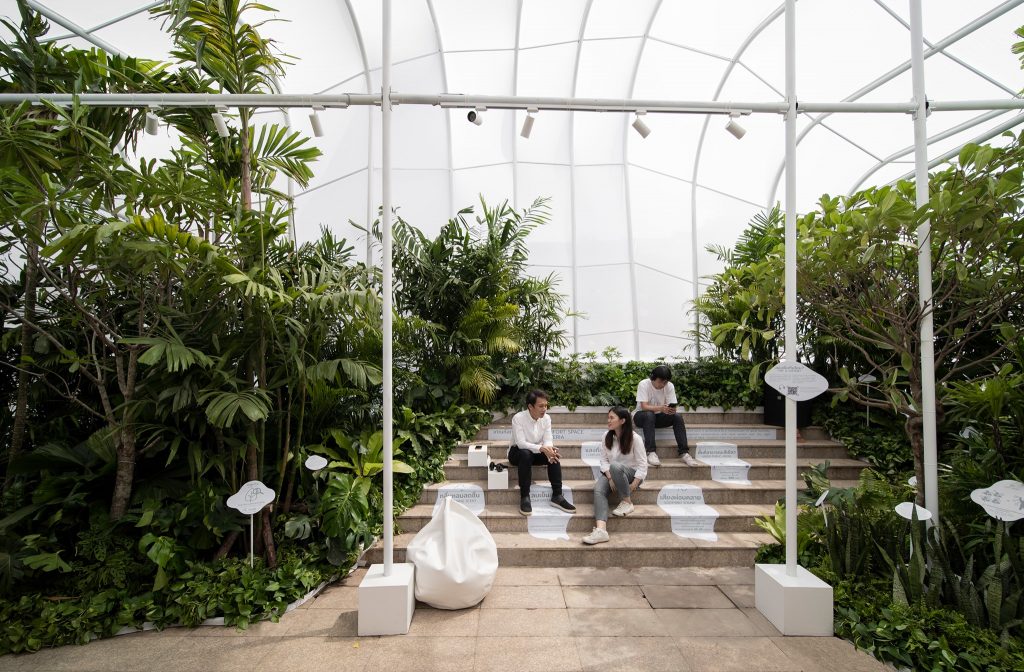 โปรเจ็คต์ Safezone Shelter เน้นต้นไม้เป็นส่วนหลักของการออกแบบ โดยต้นไม้ในโปรเจ็คต์นี้ทำหน้าที่หลักคือเป็นการกรองฝุ่นเพื่อปรับสภาพอากาศ รวมถึงยังเป็นโปรเจ็คต์ทดลองชั่วคราว มีการวัดค่าฝุ่นจริง ดังนั้น จึงมีการใช้ต้นไม้ที่หลากหลายทั้งไม้พุ่ม ไม้ยืนต้น และเฟิร์น เพื่อสร้างเป็นป่ากลางเมือง ในโปรเจ็คต์นี้ ต้องมีการเตรียมการต้นไม้และเคลื่อนย้ายให้เข้าสู่ที่ร่มก่อนระยะเวลาหนึ่ง เนื่องจากต้นไม้สามารถเกิดการช็อคได้หากแสงที่เคยได้รับมีปริมาณเปลี่ยนไป
Content by
Shma's Horticulturist team
.
1.La-ongdao Intana
2.Panita Onsaeng
3.Jakkrapan Kongklum
4.Suphannipha Khamma
.
Graphic designer
Thanaphum thongprasert
Patcharamai suwannachot