Throughout this whole pandemic, one main struggle that the majority faced is the lockdown that restricts us from going out in public, whether for work-related duties or for leisure recreations. We cannot deny the fact that humans need socialization with one another. As of now, we already feel deprived enough from not being able to interact or go out, then what about our canine companions?
 .
Per usual, dogs need to go outside to have the opportunity to relieve themselves. Rather than having playtime in a limited area, it is essential that dogs get exposed to natural sunlight, real grass lawns, interaction with the other dogs, and a durable playstation where they can exercise and be active in a good environment. A playstation for dogs or dog parks is a heavily utilized area where elements of each function need to be considered to accommodate every type of dogs such as, the arrangements, accommodations, and facilities that are applicable for the various breeds of dogs.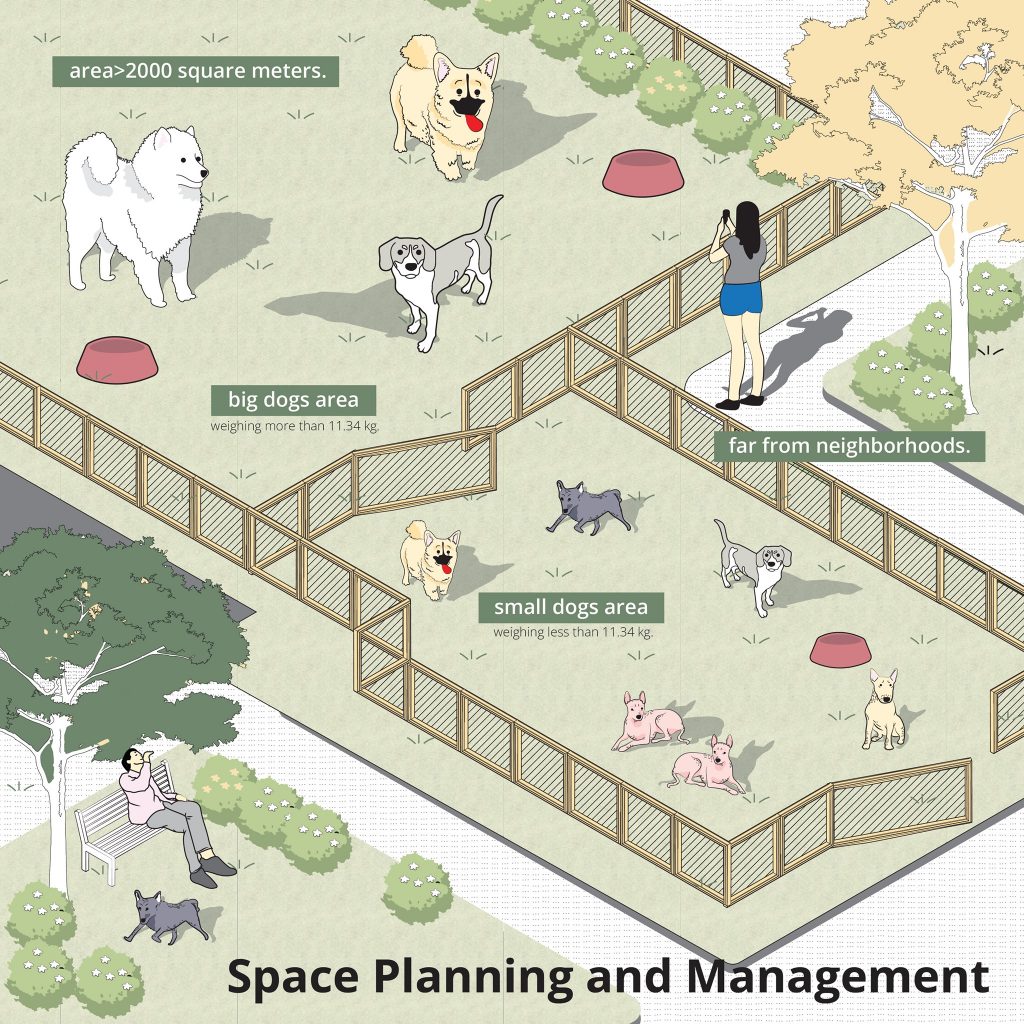 Space Planning and Management
.
The configuration of designing a park for dogs is not the same for humans. The size of a dog park area varies directly with a variety of factors such as the style of the park, the activities it should facilitate, the park's accommodation, the objectives of the park's usage, and the space's radius of service. For the park to be applicable for both big and small dogs, its size should be at least 1.25 rai or 2000 square meters. The space should also be organized accordingly, to facilitate different sizes of dogs and to ensure safety measures. For the classification of dogs, body weight is used as a criterion, where dogs weighing less than 11.34 kg are small dogs and weighing more than that would be classified as big dogs.
.
Moreover, since the dog park is a place where there is a lot of activity going on in the area which can be noisy or chaotic, therefore, the site of the park should be avoided in socially sensitive areas such as densely populated housing areas. If the park must be in the sensitive area, a buffer should be designed to mitigate its impact to the surrounding neighborhoods.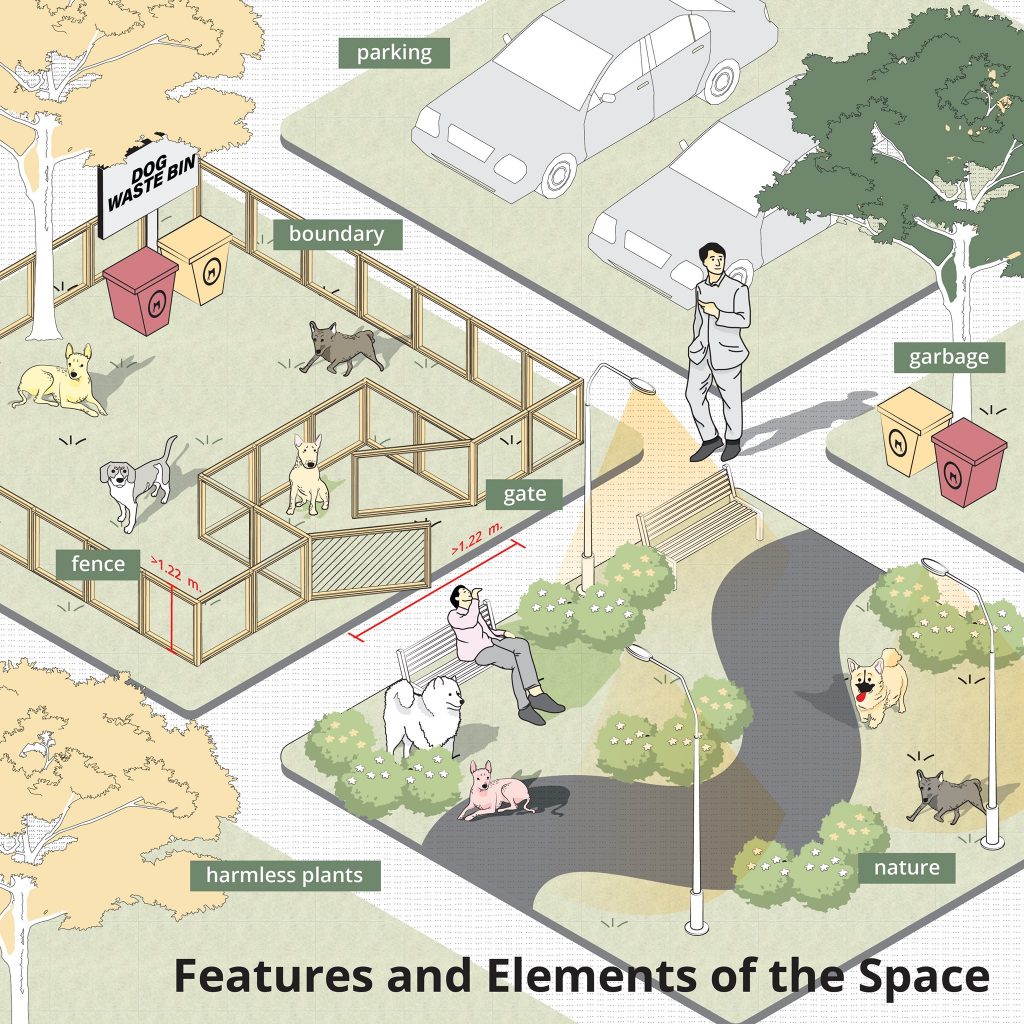 Features and Elements of the Space
.
Generally, most dogs enjoy being around nature, therefore, the design of the place should adopt several elements from nature into use. Also, selecting plants that are not harmful to dogs like ones that don't sting or poisonous. For cleanliness and to reduce the hassle of maintaining the area, garbage or waste disposals should be controlled and positioned properly to make it easier for both the users and cleaners afterwards.
.
In marking the boundaries of each zone, the fence should be at least 1.22 meters tall where it should be applied the same on the width of the gate. For all of the zones and elements in the park, there should be clear signage to indicate the instructions and operative measures of the facilities to users. Moreover, one of the dog park's elements is the parking lot where people tend to leave out in the design process. Considering that dogs are not accepted on most public transportations, most of the dogs and dog owners travel in private vehicles, therefore, the dog parks need to be well designed with sufficient space for parking.
(Advisory et al., 2014; Metcalfe, 2017)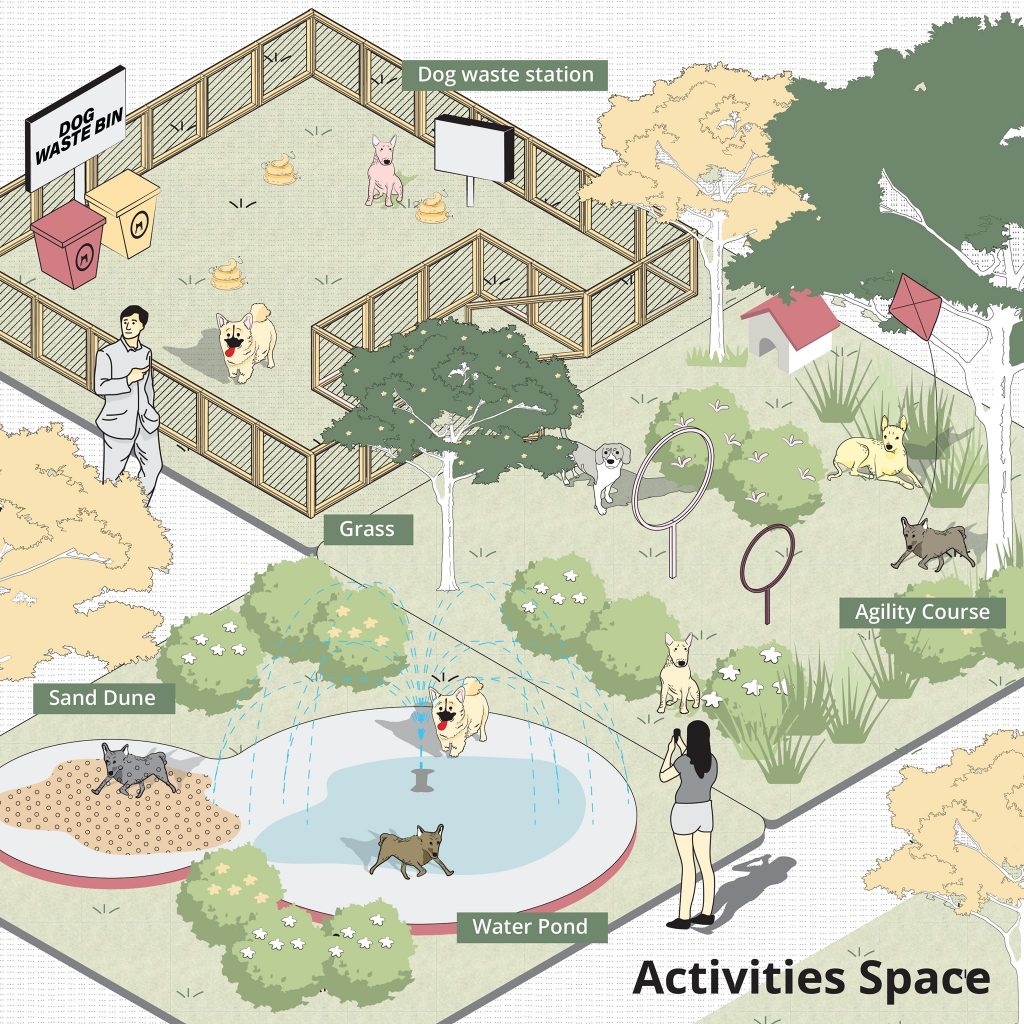 Activities Space
.
The design of the park should be able to facilitate a variety of activities and at the same time challenges the ability of the dog to help promote both physical and cognitive skills. Agility course is a great exercise for dogs such as running through a course that involves passing over and through a variety of obstacles. There should be a wide range of materials for dogs to play with, such as small sand dunes, grass plains, and a water pond or a fountain. Being exposed to different textures is good for the dogs' muscles and will help improve its coordination.
.
Aside from activities for dogs, the space for dog owners or other people should also be designed. There should be enough seating and furniture for each one, to rest, to sit, or to be able to watch over their dogs in the play area. As each dog has a different personality, one might feel a bit overwhelmed among others. The park should be a safe space where both dogs and their owners can enjoy and interact with each other happily.
Graphic Designer: Supatsorn Boontumma, Patcharamai Suwannachot
.
References
.
Advisory, P., Dog, C., & Subcommittee, P. (2014). Recommendations and Guidelines for Dog Park Site Selection , Design , Operations
and Maintenance.
design-an-excellent-dog-park