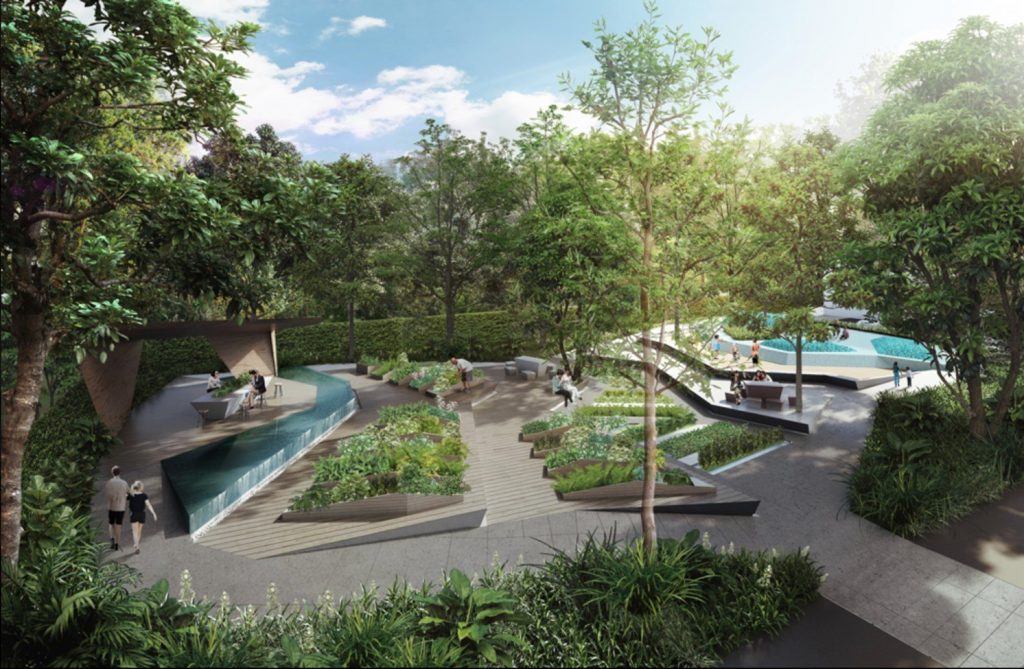 The COVID-19 pandemic has been a factor that raise people's awareness on living their lives well nearby their homes or towns – working from home, doing online shopping or within the neighborhood or even growing their own food in their places. 'Urban Farm' has become a global trend across cities, enabling 'food security' by serving fresh and safe foods to citizens. This green cultivating space does not only serve as a communal space, but also create interactive learning which people can come along and share adaptable skills together.
.
At One9Five, a luxury condominium on Rama 9 Road, Bangkok's brand-new CBD, 1-Rai Urban Farm becomes a highlight of the project, designed through the concept of 'sustainable oasis for contemporary lifestyle.' This ground floor backyard comprises edible plants growing plots, playground and outdoor communal kitchen, fostering a sense of community between urban residents.
.
At the lowest floor level, rainwater will be retained with the use of aquaponic pants, while the higher level is filled up with edible garden, made up of planters of various species such as Aloe vera, Pak Choi, Sweet Basil, Angled gourd and Gac Fruit. They can be cultivated within 1-2 months, and cooked at the co-kitchen situated at the north part of the site. To fully create a delightful atmosphere, Perennials are grown, scattered around the site as well.